In January, DWS Auto had carried a report that talked about Nissan's plans of launching 3 small cars in India, codenamed K2, I2 and K11, in the next 3 years. The latest news is that the small car will be positioned below the Micra in its Indian portfolio.
In an interview to Daily News & Analysis, Nissan Motor India Managing Director and CEO Kiminobu Tokuyama said, "We see a lot of opportunity in India's compact car segment and this small car is still in the concept stage. We are talking to different companies which could possibly be our partner in this project. Right now, we are still studying the concept. We are working on this concept through our collaboration between our Chennai and Japan R&D units." Related: Upcoming Nissan car launches for India
Tokuyama added that the company is eager to capture the small car market in India and, hence, will put the concept model into production soon.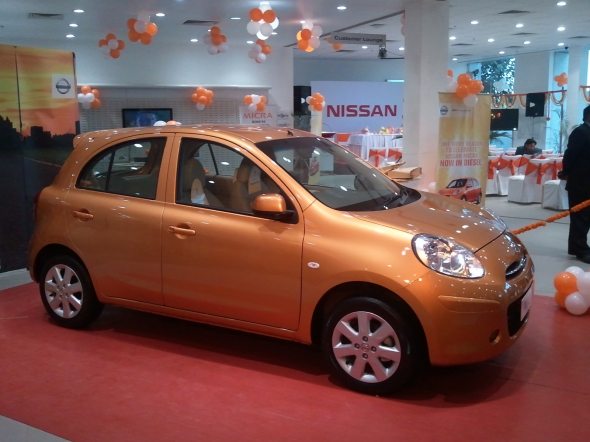 It's hard to tell whether the small car being referred to here is one of the three aforementioned models or an altogether new car. To us, it appears Nissan is referring to the K2 model that will be powered by the same 1.2-litre petrol engine that powers the Micra. Nissan wants to pit this car against the Maruti Suzuki Wagon-R and A-Star. Related: Nissan Micra diesel road test
Currently the Micra, launched in India by Nissan last year, is the only small car from the Japanese car maker. Nissan sells around 2,000 units of the Micra every month via its wafer-thin 30 dealerships across the country. Nissan rolls out the Micra from its Oragadam plant near Chennai. The 1.2-litre petrol engine used in the Micra is also manufactured here.
Nissan – Ashok Leyland joint venture
Speaking about the Nissan-Ashok Leyland tie-up and their products, Tokuyama is quoted as saying, "We will start rolling out the MPVs this year— the first will be an Ashok Leyland product (bus and commercial vehicles between 5 tons and 7.5 tons) which will be launched this year, followed by Nissan's MPV (NV200) which will be launched in 2012 and the third MPV will again be an Ashok Leyland batched product (alike NV200). Right now, there are no plans for LCVs."
Ironically, Ashok Leyland Director V Sumantran has said that the alliance's light-weight truck project is "on schedule" and the vehicle will roll out from the company's Hosur plant. Related: Nissan-Ashok Leyland LCV production to begin in second half of 2011
Nissan NV 200
The NV200 had made some noises in the Indian media as far back as December 2009. To be built jointly by Ashok Leyland and Nissan, the NV200 MPV measures 4.4m in length, 1.86m in height and 1.69m in width. The vehicle could be powered by a version of the Renault Logan's 1,500 cc diesel engine that powers the Logan sedan. The re-tuned version of the engine might produce 85 hp and 200 Nm, and mated to a 5-speed gearbox. Read more: Nissan NV200 for India launch
The NV200 will have power steering, rear leaf springs (in the Indian version) and massive cabin space, thanks to its height, which will make it stand taller than the Toyota Innova. The seven-seater version is what we expect to launch in India. Upon launch in 2012, the Nissan NV200 will have to face stiff competition from the upcoming Maruti Suzuki's RIII MPV, which is expected to be launched by the end of 2011.
Localization of X-Trail after CKD issues
Nissan sells the X-Trail SUV and Teana sedan through the CBU (Completely Built Units) channel or, in other words, these models are fully imported from Japan and hence they command a high price tag. Nissan had been planning to assemble the X-Trail in India, which would have helped it bring down the vehicle's price.
However, a new provision announced in the 2011 Union Budget threatens to impose additional burden on car makers who import pre-assembled parts. In case the rule is enforced, auto-makers will have to shell out a customs duty of 60%, which is the same they would pay for importing cars.
SIAM is seeking a clarification on the matter from the Indian government and Nissan is keeping a close eye on the verdict. Tokuyama said that in case the decision ruled in favour of OEMs (original equipment makers), Nissan will immediately begin assembling the X-Trail and Teana in India.
Update (16/03/2011): The government has just now issued a clarification regarding what constitutes CKD. According to the definition, CKD comprises only those kits with pre-assembled engine, gearbox, etc and not individual components which will attract only a 10% duty. Hence, Nissan (and Toyota, Mahindra, Honda, etc) can heave a sigh of relief and continue importing engines and gearboxes separately.
Want to see your photo feature about that exciting road trip published on Cartoq? Share your details here