The cute-looking Tata Pixel concept drew the most oohs and aahs from on-lookers and critics alike at the recently held Geneva Motor Show. So overwhelming was the response that Tata Motors has now decided to dump its small-car project based on the Nano Europa for a production version of the Pixel concept in Europe.
Tata Group Chairman Ratan Tata reportedly told Autocar that the Pixel concept will partly replace the proposed Nano Europa. He added that the production version of Tata Pixel will come with conventional doors (instead of the scissor doors in the concept that rotate upwards), contemporary instrument cluster and controls. The company claims the Tata Pixel will be 'the most package-efficient 4-seater in the world'.
Tata Motors showcased the Pixel concept car at the Geneva Motor Show on March 2nd 2011. The Pixel is powered by a rear-mounted 1.2-litre, 3-cylinder, diesel engine that puts out 60 bhp. Tata claims the Pixel could return a claimed 29.4 km/litre (3.4 litre per 100 km) as per European driving cycle and will emit just 89 grams of CO2. That would make it the most fuel-efficient 4-seater car in the world!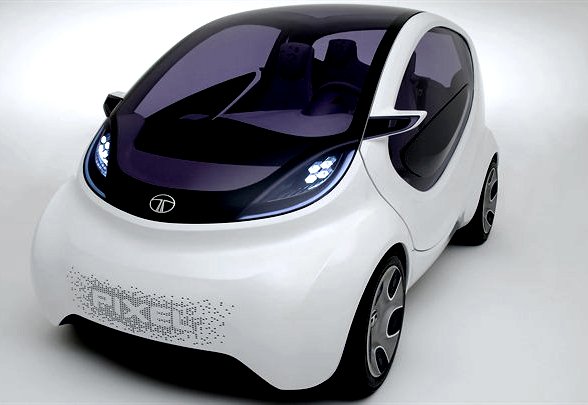 The concept, which actually looks like an ultra-modern version of the Nano, is 250 mm shorter than the 'world's cheapest car'. Despite the reduced length, the Pixel would seat 4 adults. Also read: Tata Motors photo gallery
The Tata Pixel concept boasts Zero Turn toroidal traction-drive Infinitely Variable Transmission (IVT). In layman terms, that will help the Pixel achieve a remarkable 2.6 metres turning radius! That's far better than the Tata Nano, which has a turning radius of 4 metres! Importantly, the Pixel has improved chassis and better handling abilities than the current Nano.
Tata Motors also plans of launching a 4-door Pixel based on the Nano's wheelbase. The 4-door Pixel could likely be launched in India while the 2-door version, as proposed earlier, will be heading to European shores. Besides, the diesel engine will make the Tata Pixel far more appealing to small car buyers. Related: Tata Pixel India launch likely
While the 4-door Pixel's launch will take some time, Tata Motors is likely to roll out the Nano diesel in September 2011. Related: Tata Nano diesel launch in India