Driving or owning a Lamborghini is a dream for several motoring enthusiasts, and even for those who are not particularly interested in cars. These extremely powerful machines with V10s and V12s at their back, along with the extremely low-slung and sharp styling, make Lamborghinis highly desirable. While a fortunate few are able to fulfill their dream of owning a Lamborghini at least once in their life, others are unable to do so due to their exorbitant price tags. However, a person from Indore, Madhya Pradesh, has partially realized this dream by owning a replica of a Lamborghini Aventador.
In a video shared by a YouTube channel named 'Magneto 11', we can see that someone from Indore has transformed their good old Honda Civic into a Lamborghini Aventador lookalike. The owner has fittingly named the car 'Silver Shark', as its aggressive and shark-like appearance is highlighted by its silver color scheme. The outcome is undoubtedly one of the best transformation jobs we have witnessed in recent times.
Also read: Modified Royal Enfield Thunderbird 500 motorcycle from Eimor Customs look beautiful
The complete transformation was performed by a team from a local workshop owned by Firoz Khan in Indore. To achieve the transformation, custom-made body panels have been installed on the entire bodywork of the white Honda Civic, giving it the appearance of a Lamborghini Aventador. Each panel of the car, including the bonnet, upward-opening door panels, door-mounted rearview mirrors, side-window panels, quarter glasses, rear profile, headlamps, and tail lamps have been uniquely designed to match the original Aventador panels.
The car is also equipped with 19-inch alloy wheels, larger tires, a boot-mounted wing spoiler, and red-colored wheel spacers. The front bumper includes LED fog lamps and LED turn indicators integrated into the front bumper inlets. Like the original Aventador roadster, the roof can be retracted to provide an open-top motoring experience. At the back, there are centrally-placed quad exhaust ports that produce a similar deep exhaust note for which Lamborghinis are renowned. Unlike a Lamborghini, the engine is mounted at the front, and there is a decently sized 400-liter boot compartment beneath the upward-opening rear panel made of fiber.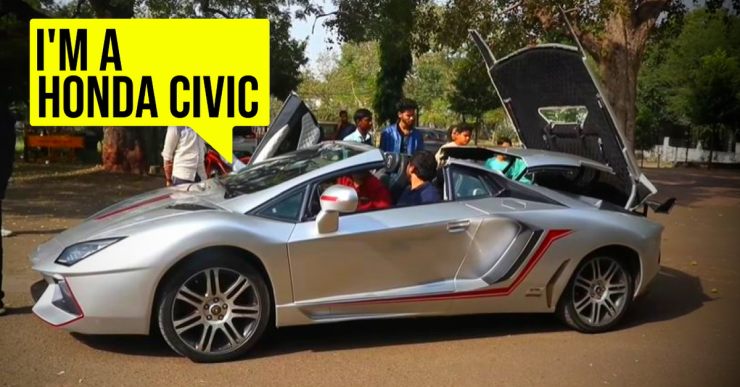 The original dashboard of the Civic has been retained and painted black, giving the complete interior an all-black theme. The significant changes inside the car include new sport seats in the front, an ambient lighting strip on the dashboard, a large touchscreen infotainment system that includes Android Auto and Apple Carplay, and new rear seats. The new rear seats are smaller than those in the original Civic but can still comfortably seat two adults. The interior door trims and transmission tunnel have also been custom-made, with the latter accommodating power window and outside rearview mirror adjustment switches behind the gear lever.
There are no expected changes to the front-mounted 1.8-liter engine from the original Honda Civic, which has been paired with a 5-speed manual gearbox. Although the entire modification job is commendable. It is not perfect and if you are someone who loves cars and bikes, you would easily recognise this as a replica. Such vehicles are deemed illegal for use on public roads under motor vehicle laws regarding vehicle modifications.
Also read: BSA Motorcycles unveil Gold Star 650: Will Rival Royal Enfield 650 Twins