Maruti SS80, also known as Maruti 800, holds significant importance in Indian automotive history. In the past, we have covered the story of Maruti 800 and its introduction to India. It was part of Sanjay Gandhi's vision to make affordable cars for the common man in India. Even today, Maruti cherishes its heritage and proudly displays the first-ever Maruti 800 sold in India. The story behind the first Maruti 800 sold in India is well-known, and now many classic car collectors have Maruti 800 models in their garages. However, most of these cars have been customized or modified, making it challenging to find a pristine example. In a video uploaded by Jaydsgarage on their YouTube channel, a Maruti SS80 owner shares his 16-year experience of owning the car.
The car owner in the video shares the history of Maruti 800 and narrates how he acquired this particular car. With a collection of classic cars, this Maruti SS80 holds a special place as it was his first car, purchased at the age of 19. He used it as his daily driver throughout college and even during his early work years. Back then, Maruti was still selling the 800 model in the market, and this car was not yet considered a classic.
Also read: 10 DC Design cars & how they look in the REAL world: Maruti Swift to Mahindra XUV500
The owner specifies that his variant is the Maruti 800 DX (Deluxe), which came with leather seats, factory-fitted tinted glass, a stereo, and air conditioning. He and his friend were in search of a Maruti 800, preferably in blue, and after much effort, they finally located this car. After conducting thorough research and tracking down the previous owner, they successfully convinced him to sell the car. The previous owner was emotionally attached to the car and sold it only to upgrade to a more modern vehicle.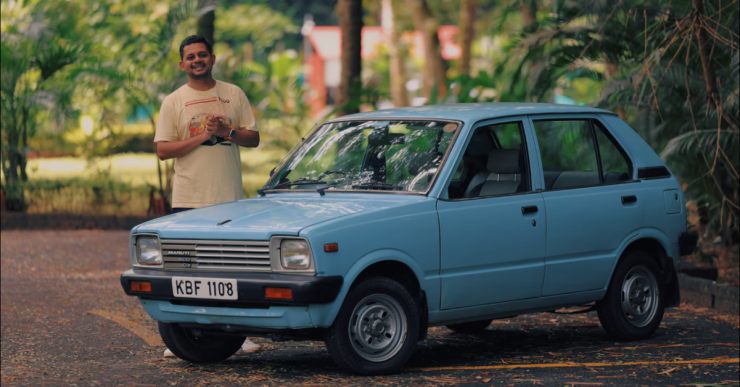 Despite 16+ years of usage, the owner remains extremely satisfied with the vehicle, which holds a special place in his heart due to the nostalgia it evokes. He has taken this car on road trips from Kerala to Goa and Bangalore, and even now, the car returns a fuel efficiency of approximately 20 kmpl, making it a practical choice for city driving. Although he uses it a couple of times a week, finding parts for the car has become nearly impossible, which is why he rarely uses it nowadays.
Nevertheless, he has made some changes, such as adding aftermarket seat covers and new floor mats, but he still keeps the original mats to preserve their condition. He strongly recommends purchasing a used Maruti 800, but cautions buyers to be careful and look for an original vehicle. Cars with modified interiors and exteriors can be extremely difficult to restore due to the scarcity of appropriate parts. It is without any doubt one of the cleanest-looking Maruti 800 that we have seen in a long time. The Maruti 800 was offered with a 796-cc, 3-cylinder petrol engine that generated 39.5 Ps and 59 Nm of peak torque. It was paired with a 4-speed manual gearbox.
Also read: Upcoming 2022 Maruti Suzuki Vitara Brezza rendered