Every time the price of petrol goes up, buyers and owners relook at their options. Should they change their petrol cars into cheaper options? CNG? LPG? CarToq spoke to CNG dealers to find out which cars see the maximum conversion into CNG, and what are the conversion costs?
According the most CNG dealers we spoke to in the Delhi region, owners of Maruti Suzuki, Hyundai and Honda cars are the majority of CNG kit buyers. The models that are specifically popular are Maruti Suzuki Alto, Wagon-R, Swift, Esteem, Alto, the Hyundai Santro, Accent and Honda City.
This list is not surprising. These cars are some of the best value for money buys. But with the petrol costs going out of control, CNG is one option to reduce the fuel costs. Most of the CNG kit buyers, according to the CNG dealers, are owners of petrol cars before they are now deciding to convert it to CNG.
Here's what you expect in terms of costs and other points you need to keep in mind. Also read: Tips to help CNG cars last longer.
Cost of CNG kits
So how much does a CNG kit for these cars cost? Well some cars come with factory fitted kits, but even if you have a petrol only car you can always get a CNG installed from authorized dealers.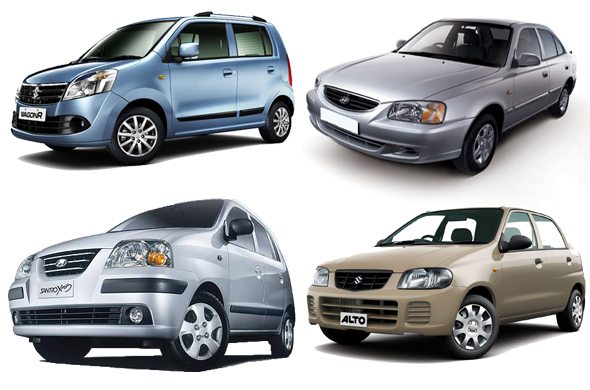 Here we'll see how much an aftermarket kit would cost you for some of these popular cars. Small cars like the Wagon-R, Alto, and Santro have a small boot so people generally install 12 litre cylinders on them. A basic CNG kit with a 12-litre cylinder can be bought for between Rs. 28,000 to Rs. 38,000 depending on the brand, quality and features of the kit.
If you are not too keen on saving every inch of boot space on your small car you can get a 14-litre cylinder which will make your complete kit dearer by at least Rs. 2,000 to Rs. 4,000.
Higher end kits can go up to Rs. 70,000 these are usually sequential MPFi CNG kits. These kits come with added features like advanced timing advancers, special spark plugs and other upgrades to make the engine run smoothly even on CNG. Dealers mentioned that those who have sedans usually opt for 14 litre cylinders and high end kits to be on the safer side.
Why opt for an expensive kit
Different CNG kits come with different types of user interface. What that essentially means is that the switch which allows you to change from CNG to petrol and vice-versa will be smaller, larger and will have a different fuel level indicator.
Most CNG kits in the present day automatically switch from petrol to CNG automatically after a preset time interval or once the car accelerates (when rpm goes beyond a certain figure). An advanced kit comes equipped with all bells and whistles so minimum input is required from the driver.
Other additions
When you get a CNG kit installed, some parts have to be changed for optimum performance as CNG is a gas and does not lubricate parts the way petrol would. When you get and advanced kit installed you will generally get replaced injectors that are meant for CNG cars. Advanced kits also come with ECU's that help the car compute the amount of gas that the engine requires and work in tandem with the cars system to reduce any stress being put on the engine.
Share your experiences with CNG conversions.