*Updated February 2013
See popular compact SUV stories in India:
Upcoming compact SUVs in 2013
Ford Ecosport likely features and variants
Jeep plans compact SUVs to rival Duster and Ecosport
Renault Duster vs Mahindra XUV500 video comparison 
Ertiga vs Duster vs Ecosport comparison 
All you wanted to know about the Renault Duster
Now this is interesting. Cars from Premier Auto Ltd. were some of the first we ever rode in. Premier Padmini, alongwith Ambassadors and Mahindras formed our automobile trinity for a long time indeeded, till the soap-dish sized Maruti 800 came into overthrow all of them.  Also see: Premier Rio Video Review from Auto Expo 2010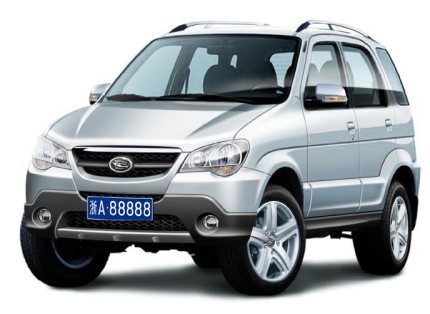 Then we heard about the Peugeot 309, one of the first cars to come to India. That was in 1995 I think, and PAL had high hopes. What happened later on was a sorry saga of labour troubles, and it disappeared. Update: Premier Rio launched – click here!
After all that, now we hear that PAL is going to launch a mini SUV in India. First of all, let me state that I have been desperately waiting for a small SUV for years. The Maruti Gypsy was everyone's favourite little SUV for a long time. But the company did not bother to replace it with the later generation Suzuki Jimny once its time was past. Every other company which came to India wanted to give us SUVs – but they were lumbering behemoths like the Ford Endeavour, Honda CR-V (that's a crossover), the Chevrolet Captiva or the recently launched Toyota Fortuner. Related: Premier Rio Multijet BS IV 
Our local SUVs (!) have also been around a while. We have had the Tata Safari in its numerous versions, and then the Mahindra Scorpio, and several pretenders like the Mahindra Classic and Invader. The Mahindras were too utilitarian, and everything else targeted the seven-member family or the seven member goonda gang market. Nothing for a few friends to step out of town in.
That is what PAL is going to give us with the Premier Rio. Finally our little fun to drive SUV, a worthy successor to the Gypsy, perhaps?
Who am I kidding? That last paragraph was extreme wishful thinking. The Premier Rio is going to be nothing of the sort. Possibly. But we could be wrong, and we really, really want to be wrong here.
It seems that the Premier Rio had come to India under some other name during the last Auto Expo, and most of us did not notice it.
It will be a tallish, hatchback-sized SUV. Reports are that the Rio has pretty much the internal size as a hatchback car. But hatchback car interior sizes vary quite a bit between the Santro and the Indica vista. But thre you have a general idea. It has got fat wheels alright in the photos we have here – but don't be to sure if they will be standard on the Indian Rio.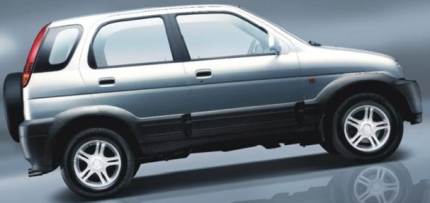 Power? Premier has plonked in the well-known Peugeot TUD5 diesel engine into the Rio. Now, this engine came to India in the Peugeot 309, and later fund its way into a diesel Maruti Esteem. Peugeot has modifed the engine and added a turbo – upping the power outpt from 58 bhp to 65 bhp. That, really, is low. However, Hormazd Sorabjee who drove it around a bit wrote in the Telegraph newspaper that it does not fel slow, possibly due to the overall light weight of the Rio. We think that, nevertheless, that is not enough.
Plus, there is no certainty on whether the Rio's TUD5 diesel engine will meet BS IV emission norms. If it does, it will appear in the metros. If it does not, PAL will sell the Rio in the small towns and villages where BS III would do, while they work on meeting BS IV norms.
Considering everything else, I really wish PAL had gone in or some version of that famous Fiat multijet diesel engine we have in almost every diesel car in India and given the Rio a bit more outright power.
It also comes with All Wheel Drive. We have no info on whether it is 2WD in normal operations and a shift-on-the fly 4WD, but at last that is there. (We were wrong here. There is NO four wheel drive. Only rear-wheel drive on the Rio. We got it wrong.)
From the bunch of photos of the Rio / Terios that we have here, it seems that the interior is quite clean and simple. Nothing cheapo at least in the photos.
How does it drive? We have no idea. The Daihatsu Terios / Zotye Rio was quite popular in some of the markets where it sold. Plus, ancient Toyota it may be, but remember that the Toyota Qualis was much-loved in India despite it being the ugliest thing on four wheels one could find.
Has Zotye / PAL maintained the fit and finish of the normal Daihatsu / toyota vehicle in the Rio which will finally appear on our roads? A lot depends on that.
Now, the price. from what we know so far, the base version of the Premier Rio will sell at rs 5 lakhs, and the top end version of the mini SUV will be priced at Rs 7 lakhs. The top end Rio, though, comes with ABS and airbags – a definite plus – something that we at DWS AutoIndia always applaud.
Then again, a lot depends on the trust factor. People have no heard from PAL for a while. Will they happily plonk down 5 lakhs for this SUV, even though they have always wanted a little 4WD vehicle? (Sorry, no four wheel drive, guys.) Perhaps. There are many who drive on roads where it is not even practical to drive faster than 70 kmph, and for them, the low power output from the diesel turbo engine may not be a major hassle as long as the vehicle can pull.
Is the Premier Rio a copycat Chinese car?
NO.
A copycat car is when a company copies the look / design of a car from another company. The originator of the design is usually mighty pissed, as a consequence.
The Rio is a car from Zotye of China. What Zotye did was to buy the first generation daihatsu Terios parts from the company. Then, they made some minor modifications, refreshed the interior, slapped on a Zotye badge and started selling it as their own. Perfectly legal. No one is angry. Therefore the Premier Rio (or Terra, according to some reports) is not a Chinese copycat car. Period.
Premier Rio: How did PAL pull this off?
From what we hear, apart from the work being done on the TUD5 diesel engine for the Rio, PAL did not have to invest much all. The entire car comes to India as a completely knocked down kit (CKD). Premier Auto will assemble the Rio in India. PAL already has a network here, so all they have to do is ship it to the dealers. Also read: Premier Rio vs. Maruti Gypsy
Can we trust PAL to support the car?
In theory, it is possible or PAL to sell the Rio in India for a while, watch the market response, and if it looks like a lukewarm welcome, get out and forget it. In practise, we believe PAL really wants to get back into the game and will not do that, angering any buyers. The worry there is that in case PAL gives up on the SUV, buyers of the Premier Rio will be stuck with a vehicle and no spares. Hopefully that won't happen.