If you are a first-time car buyer or beginner, but yet don't want to start with a smaller hatchback, your choice would then be in the premium hatchback segment. Keep in mind that maintenance costs as well as initial purchase costs for premium hatchbacks are much higher than that of a hatchback.
Of course, you could also look at a used premium hatchback as your first car choice. If you are a beginner you will be looking at higher maintenance costs on a car – and so your car should have low maintenance. It should also have good all-round visibility and be easy to manoeuvre in city traffic.
Here are five premium hatchbacks that would fit your requirements as a first-time buyer. Also read: Best cars for women drivers
Maruti Swift
Price range: Rs. 4.5 lakh – Rs. 6.83 lakh
The Maruti Swift is almost a default choice among premium hatchbacks for two reasons – its popularity and low maintenance cost. Being a popular car and with a large service network means the car can be fixed in any part of the country. The maintenance costs on a Swift, especially the petrol variant, are quite low and typical service bill is about Rs. 2000- Rs. 2500 only. The Swift comes with light controls, easy clutch and gearshift and steering that offers a precise feel of the road. Visibility is quite good, except when reversing in tight spots. It would be a good idea to add parking aids such as sensors to the car.
The petrol Swift has a 1.2 litre engine putting out 87 bhp of power, while the diesel Swift comes with a 1.3 litre engine putting out 74 bhp of power and is quite fuel efficient.
Hyundai i20
Price range: Rs. 4.75 lakh – Rs. 7.68 lakh
The Hyundai i20 is not really a practical choice as a first car, but if you just must have that premium image as well, then it is among the better cars to choose from, again because it is relatively easy to maintain and service. The Hyundai i20 comes in both petrol and diesel with the petrol 1.2 putting out 84 bhp of power and the diesel 1.4 litre putting out 90 bhp of power. The diesel i20, although quite fuel efficient, sees quite hefty service bills – averaging over Rs. 5000. As a first time buyer the petrol i20 would be a better car to pick. It has plenty of interior space, an extremely light steering (which enthusiasts hate but makes it really easy to drive in the city), and good all-round visibility. The i20 top-end variants also feature gizmos such as reverse camera and parking sensors making it quite easy to drive.
Chevrolet Sail U-Va
Price range:  Rs. 4.44 lakh – Rs. 6.62 lakh
The newly launched Chevrolet Sail U-Va also is quite a good choice for the first-time car buyer looking at a premium hatchback. It is one of the most spacious cars in its segment and comes with a three-year or 45,000 km maintenance package which will take care of your service bills. It also comes with a 5-year engine and transmission warranty that adds to peace of mind of ownership. It comes with a 1199 cc petrol engine that puts out 85 bhp of power at 6000 rpm and 113 Nm of torque at 4400 rpm and a 1248 cc diesel engine that puts out 77 bhp of power at 4000 rpm and 205 Nm of torque at 1750 rpm. Both come with five-speed manual transmissions.
 Also read: Best cars for bumper-to-bumper city traffic
Toyota Etios Liva
Price range: Rs. 4.44 lakh – Rs. 6.2 lakh
The Toyota Etios Liva makes no pretences of being a purely functional and practical car without all the bells and whistles. That works well for first-time buyers as there's very little else to do with a Liva other than drive it. It has good all-round visibility and enough space for five. The diesel Liva is one of the more fuel-efficient cars in its segment, giving a mileage of over 19 kmpl in the city. Toyota has a reputation of reliability and that is a good thing for peace of mind for a first-time buyer. Spares costs are not too expensive either with the Liva. It comes with a 1.2 litre petrol engine putting out 79 bhp of power and a 1.4 litre diesel putting out 68 bhp of power.
Tata Indica Vista
Price range: Rs. 4.10 lakh – Rs. 6.45 lakh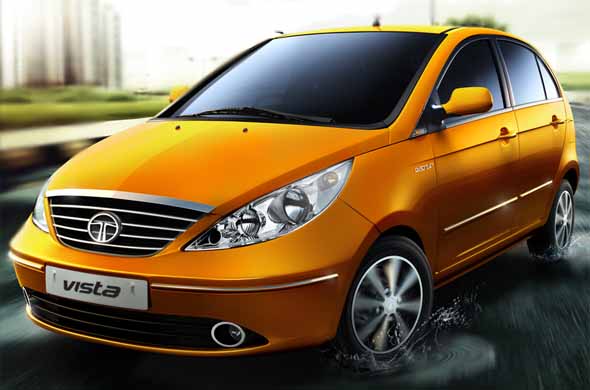 The Tata Indica Vista is one of the most value-for-money premium hatchbacks you can get as a first-time buyer. It comes with a choice of two petrol engines (1.2-litre 65 bhp and 1.4 litre 90 bhp), and one diesel engine – the 1.3 litre multijet diesel putting out 75 bhp of power. The Vista is spacious and functional with good all-round visibility. The Tata service network is quite vast, but quality of service may be an issue, although the car is quite reliable. Spares costs are not expensive for the Vista, and that's what makes maintenance costs lower for it .
Other cars in the segment include the Fiat Punto, Nissan Micra, Renault Pulse Skoda Fabia, Volkswagen Polo and Honda Jazz. While any of these cars are great to own, the Micra and Pulse as well as the Polo and Fabia have pretty high spare parts costs. The Fiat Punto is a good reliable car, but again spares costs are slightly higher and service is a bit of an issue. The Jazz is an all-round reliable car, but again weighed down by higher spares costs if you break something. Also read: Hatchbacks for first-time buyers
Share your thoughts on these premium hatches for first-time buyers.