The Rs 10 lakh – Rs 15 lakh sedan market was earlier the preserve of three carmakers: Honda (Civic), Toyota (Corolla) and Skoda (Octavia/Laura). Honda and Toyota topped the sales charts by turns. Skoda seemed happy with it's somewhat premium pricing and number three spot.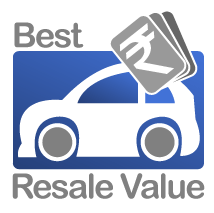 So if you bought one of these three years ago, then which one would get you the best value in the used car market? The Toyota Corolla tops the charts—not surprising since Toyota cars across segments tend to hold their values well.
A three-year old Corolla H1 with 30,000 kms on the meter should fetch you Rs 5.5 lakh in the used car market. A new Toyota Corolla Altis 1.8 J costs roughly Rs 10.6 lakh ex-showroom in Delhi.
That means it loses Rs 5 lakh or about 48 percent of its value in three years. So, even the top car here loses nearly half its value in three years. In the premium hatchback and Rs 7-10 lakh sedan segments, top cars lose less than 40 percent of their value.
See the table below for the value of the three premium sedans after three years, based on certain assumptions.
[table id=709 /]
The other two cars in our list; the Honda Civic and Skoda Laura Ambiente, lose 51 and 55 percent of their values respectively.
Why is depreciation higher in this segment?
One, there has been a significant shift towards diesels. So the demand for petrol cars—both new and old—has gone down significantly.
Two, there are new versions or cars that have made these cars "old" in addition to being "used". For instance you can get yourself a Chevrolet Cruze or Volkswagen Jetta or even a Renault Fluence these days and all these cars weren't there three years back. The Corolla has undergone a facelift is now called the Corolla Altis. The Laura too has a new model line-up with a newer one expected soon.
So there are two takeouts: One, if you are buying a new car, brace yourself for sharp depreciation. Two, there are some great cars to be had for a good price.