The Mahindra Bolero is India's largest selling utility vehicle, selling over 10,000 units a month. This, at a time, when other SUVs such as the Mahindra Scorpio and XUV500 manage only about 4000 units monthly, and new launches such as the Renault Duster are clocking just over 5,000 a month.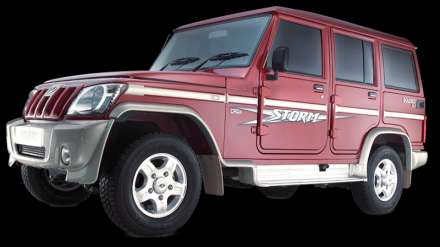 The Mahindra Bolero, was first launched in 2000, which is actually an evolution of the older Mahindra Armada that in turn is based on the Mahindra MM550 long-wheelbase Commander, dating all the way back to the TJ series Jeeps. When compared with the Xylo, Scorpio, Renault Duster or even the Tata Safari, the Bolero is dated in its design, but still continues to sell with minor refreshes – and is doing a great job at that. Also read: Mahindra Bolero vs Tata Sumo Gold
Why are people buying it?
So why do people buy the Mahindra Bolero? It is a vehicle that provides good value for money when it comes to rugged utility. Maintenance too is easy, as long as regular services are carried out as it does not have any complicated electronics.
The new Bolero (SLE, SLX, ZLX) that is available in metros is powered by a 2523 cc common-rail diesel engine that puts out just 63 bhp of power and 195 Nm of torque. The ones for rural areas also have the same engine, but in DI (direct injection) format, putting out 63 bhp of power and 180 Nm of torque. All variants have a five-speed manual transmission, while the base DI is also available with a 4×4 system for rural areas and off-road use.
Prices for the DI start at Rs. 5.65 lakh for the non-AC variant going up to Rs. 7.26 lakh for the top-end ZLX. The ZLX comes with all the comforts one would expect – such as airconditioning, power windows, music system and a digital information display. However, in terms of handling and comfort the Bolero is not that good and feels cramped. NVH levels have improved, but not to the extent of more modern products even from Mahindra such as the Xylo or Quanto – one still hears the drone of the diesel engine at most times.
Pros of Mahindra Bolero
–          Easy maintenance
–          Low purchase price (value for money)
–          Good mileage (15 kmpl)
–          Rugged build for rough roads
–          Can seat seven
Cons of Mahindra Bolero
–          Poor fit and finish
–          Dated styling
–          Poor NVH levels
Should you buy one?
Why then is the Mahindra Bolero the largest selling utility vehicle? The reason is the ease of maintenance and the utility it provides at that price. Because it has a rugged build and Jeep derived underpinnings, the vehicle can take plenty of abuse on rough roads and yet not chalk up high maintenance bills. With simple technology driving the vehicle, it can be fixed virtually anywhere, and that's what makes it popular in rural areas. The fact that it can carry a minimum of seven people – and does not complain when overloaded, also adds to its value. Also read: Mahindra Bolero vs Tata Sumo Grande
If you are considering buying one for use in the city – the Bolero isn't that refined, and at that price point you are better off with its cousin the Quanto or a Maruti Ertiga, if you want the seven-seat utility. But if you want something rugged that can handle city and rough road duties, it is a vehicle worth considering as long as you are willing to ignore the finer points of the vehicle.