The Toyota Etios Liva hatchback is available in 5 petrol and two diesel avatars. The petrol Live is priced in the range of Rs.4.44lakh to Rs.6.20 lakh (ex-showroom Delhi), while the diesels cost Rs.5.86 lakh for the GD variant and Rs.6.17 lakh for the GD (SP) variant.
The Liva is a decent looking hatchback with acceptable levels of fit and finish. Here we take a look at some factors that make it attractive and those that are sore points for buyers. Also read: Top 6 premium hatchbacks with the most rear legroom!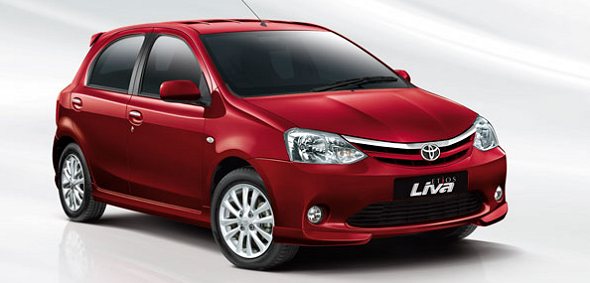 Toyota Etios Liva Pros
One good thing you notice immediately about the Liva is that it's a spacious hatchback. Four people can sit comfortably inside the Liva and it has ample headroom and legroom for all passengers. If those in the rear are willing to compromise just a little then a fifth person can squeeze in as well.
Another factor that makes the Liva attractive for buyers is Toyota's after sales service network and quality. The Toyota Brand image too adds to the Liva's appeal. On a more practical note its gearing is well-tuned for city driving and the petrol offers decent mileage, while the diesel is just a mile-muncher and offers spectacular fuel efficiency.
Toyota Etios Liva Cons
The most evident sore point about the Liva is the poor interior quality. The interiors are just too dull and bland for a car competing in this segment. The plastics seem tacky and the Liva lacks features for its price. Adding to those issues is the noisy diesel engine which is loud even when simply idling. The Petrol Liva isn't all that silent either as both the variants allow road noise to enter inside the car. Toyota should really do something about the NVH levels on this hatch.
The overall build quality is not all that bad but by Toyota standards it is plain disappointing. When someone buys a premium hatchback from Toyota he or she expects much more than what the Liva delivers.
Verdict
The Liva all in all is a practical and spacious hatchback built for congested city traffic. It will fulfill its duty within the city and will ferry you around town with utmost ease. Also see: Toyota Etios Liva video review