Rahul Gandhi is currently one of the most talked-about politicians in the country. Most of us know him as a politician, but there is a side of him that enjoys motorcycles. The opposition party leader has made his love for two-wheelers very evident during his Bharat Jodo Yatra. He has mentioned his love for motorcycles in many interviews and has even been seen riding motorcycles during the event. A video of Rahul Gandhi helping a scooter rider who met with an accident has now surfaced online. In this video, Rahul Gandhi gets out of his car and rushes to the rider to check if he is alright.
The video has been shared by ANI on their YouTube channel. The incident happened on 10 Janpath. Rahul Gandhi was leaving for Parliament from his mother's home in a Toyota Innova Crysta. As usual, we can see security vehicles in the front and rear of his Crysta. As Rahul Gandhi's MPV joined the road and started moving forward, he noticed that a scooter rider had fallen.
Also read: 10 DC Design cars & how they look in the REAL world: Maruti Swift to Mahindra XUV500
He immediately asked his driver to stop and got out. Rahul Gandhi, surrounded by his security officers, rushed to the scooter rider. The scooter was on the road, and the rider was standing. It is not clear how the accident happened. It is quite possible that the scooter rider might have applied hard brakes after he saw Rahul Gandhi's convoy join the road.
Usually, we have seen that security officers block the road a few minutes when a politician is passing by. We are not sure if something like that had happened here. Rahul Gandhi rushed to the spot, spoke to the person, made sure that he was fine, and then went back to his car. The person who fell on the road is also seen speaking to Rahul Gandhi in the video. Another possibility in this case is that the scooter rider was hit from the rear by another car that could not stop in time. These are just assumptions, and at the moment, there is no clarity on what exactly happened.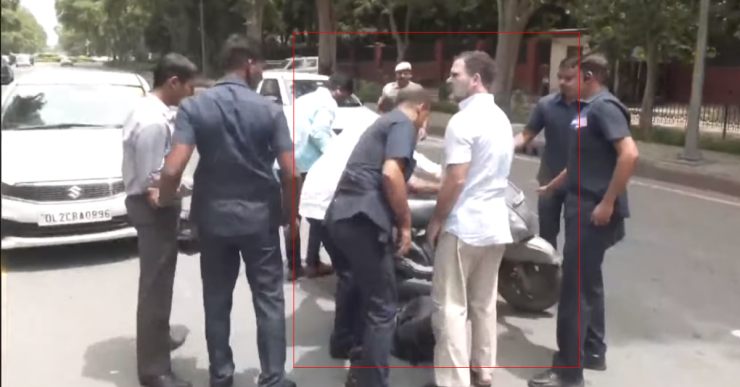 Rahul Gandhi continued his journey to the parliament. This was the first time he was speaking in the Parliament after being reinstated as a Member of Parliament. He criticized the ruling party for not handling the Manipur crisis. As mentioned above, Rahul Gandhi has a passion for motorcycles. In an interview during his Bharat Jodo Yatra, Rahul mentioned that he grew up riding an old-school Lambretta scooter, which was mostly used by his friends. He mentioned that he is still in awe of the retro styling and easy rideability of a Lambretta scooter, which is hard to find these days.
He is not a big fan of Royal Enfield motorcycles and prefers the old two-stroke Yamaha RD350 over a Royal Enfield motorcycle. The reason for that is he finds the power delivery of the Yamaha RD350 quite addictive, while at the same time, he also mentioned that the same progressive power delivery of the RD350 can be dangerous at times.
Also read: Upcoming 2022 Maruti Suzuki Vitara Brezza rendered