Badshah, the Indian singer and rapper, is like many celebrities who love high-end cars. He boasts an impressive collection of expensive and exotic vehicles in his garage, some of which have been featured on our website in the past. On various social media platforms, we've seen him proudly share pictures of his lavish cars and even reveal the stories behind some of them. His car collection includes models like the Jaguar and Rolls Royce Wraith. Recently, the singer and rapper posted a video on Instagram where he was seen cleaning his Mercedes-Benz G-Wagen. Notably, he also composed a quick rap about the experience.
View this post on Instagram
The video was shared by Badshah on his Instagram page along with an image. In the picture, Badshah can be seen sitting on the bonnet of his G-Wagen. The accompanying video shows him attentively cleaning the fender of the car with a microfibre cloth. In the same post, Badshah shared his rap lyrics about cleaning the G-Wagen, though it remains uncertain if the lyrics were specifically meant for this car or not. The lyrics go as follows: "Game pe maara hai pocha, Dilli mein fadda hai, Bombay mein locha, Kiya jo kisi ne bhi na tha socha, Fir bhi launde mocha ko bolenge mocha."
Also read: 10 DC Design cars & how they look in the REAL world: Maruti Swift to Mahindra XUV500
The post has already amassed over 200k likes and more than 1,000 comments. Some of these comments are humorous, with people teasing Badshah for what they perceive as poorly written lyrics. One user even remarked, "My local boy writes better rhymes than you." Another user wrote, "Abhi gadi saf kar ke bethe hai ab ye soch rahe hai piche vali kaise Karu saf me to bhut thak gaya hun" (Now that you've cleaned the car and sat on it, you're thinking about how to clean the one parked behind as you are tired).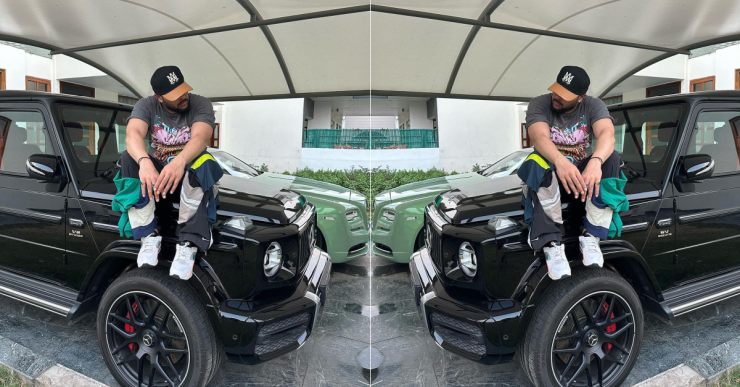 Interestingly, the Rolls Royce Wraith parked next to the G-Wagen also has a funny story behind it. There was a video circulating online some time ago where Badshah mentioned that he never drives the Rolls Royce Wraith and it's always parked at their home. His father is so concerned about the car getting scratched that he doesn't allow anyone to drive or clean it. He believes that even cleaning the car might lead to scratches. In a light-hearted manner, Badshah shared that his father is so worried about the car getting stolen that he doesn't stay away from home for long. His father even joked that he has bought a house and parked it in the driveway of their home.
Returning to the G-Wagen video, the car seen in the pictures is finished in black, a common color choice among G-Wagen owners. This particular model is the current generation SUV, equipped with a plethora of premium features. It houses a 4.0-liter twin-turbo petrol engine that churns out 585 bhp and 850 Nm of peak torque. The power is transmitted through a 9-speed automatic transmission, delivering power to all four wheels. Apart from the G-Wagen and Rolls Royce Wraith, Badshah's car collection includes models like the Jaguar, BMW 640d, Audi Q8, and two Lamborghini Urus SUVs.
Also read: Upcoming 2022 Maruti Suzuki Vitara Brezza rendered