Last year, during the inaugural F1 Grand Prix in India in October 2011, Caterham cars announced its entry into India. Caterham is a niche British sportscar brand that was to be brought into India by members of the Dabur India family – Mohit and Gaurav Burman.
The Burmans were to build a plant near Greater Noida, close to the F1 circuit with an investment of $10 million, along with investment from British racer Matt Cummings. The Caterham cars would be made to order and priced between Rs. 28 lakh to Rs. 90 lakh.
Caterham 7 (India)
The car that was to be made in India was the Caterham 7. Plans are still underway, but progressing at a slow pace – and hopefully the cars would be available in India next year. It's a light, open-top, two-seater sports car. It is a rear-wheel drive car with a choice of engines and gearboxes – from a humble 1.4 litre 125 bhp petrol to a 2.3 litre 260 bhp petrol engine with a six-speed manual transmission. The car weighs only about 600 kg.
The company plans to sell the cars on a made-to-order basis and is also planning to set up a racing academy at the Buddh International circuit.
Chinkara 1.8S
The Caterham design is not unfamiliar in India. A few years ago, in 2003, a company called Chinkara Motors that makes ATVs and marine equipment began to make a replica of the Lotus 7, the same as the Caterham 7. However, this is a lot more affordable as it's made with parts from existing Indian cars including the Maruti Esteem, 800 and Alto.
The car is called the Chinkara 1.8S and is priced at about Rs. 8 lakh. It is powered by a 1.8-litre Isuzu petrol engine putting out 114 bhp of power and 135 Nm of torque. The car was built and designed on the Lotus 7 design, but indigenized by Guido Bothe, the owner of the company making these niche cars.
San Storm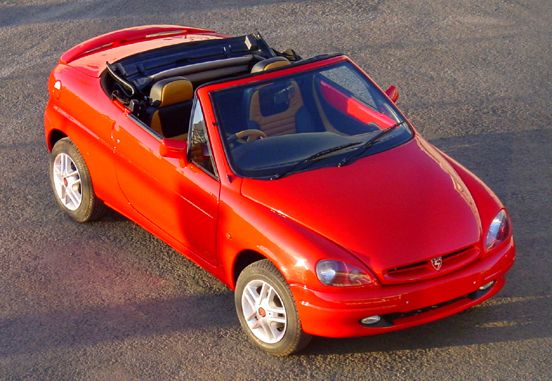 Still want to stand out on the road, then here's another Indian niche sports car – the San Storm. The San Storm is a 2-seater sports car with a fibre glass body. It is powered by a 1.2 litre, 60 bhp petrol engine that's not really a "sports car" choice. However, it looks the part with a fully convertible rag top. The car can only be bought on special order as the company makes them for export only, having had a very poor response in the domestic market. Prices are at about Rs. 8 lakh for this car.
These are three niche cars that are in the Indian market, and ones to look for if you want complete exclusivity. Of course, if you have the money, there are the Koeniggseggs, Ferraris, Lamborghinis and Aston Martins to choose from that are also quite niche, but are priced in crores for rupees.