City roads are changing every day and the absence of road signs can often send you the wrong way, more so if you're out of the city exploring remote areas. Using GPS technology helps you find your way.
However, very few people are aware about GPS navigation systems. Here's a CarToq compilation of in-car GPS navigation systems in India.
First off, let's understand what an in-car GPS navigation system does for you. GPS stands for Global Positioning System. It is a space-based global navigation satellite system which helps locate a GPS device anywhere in the world. So once the system knows where you are, it can point your car to the destination with the help of an on screen map.
Some popular brands for navigation systems in India are SatGuide, MapmyIndia, Garmin etc. There are several types of navigation systems available in the market; we have classified these systems on the basis of their prices and features.
Mobile Navigation Applications
Rs. 150 to Rs. 2,500
Navigation applications for smartphones and business phones are the least expensive means of in-car navigation. Apart from basic applications that can be installed for free, there are also applications offered by companies like Satguide and MapmyIndia.
These applications are available for Windows Mobile, Android, Symbian phones etc. They have a simple and easy to use interface with comprehensive map coverage thanks to preloaded maps. However is becomes cumbersome to try and navigate using the small screens on most phones and hence it is best to install an entry level navigation system.
Basic Navigation System
Rs. 5,000 to Rs. 10,000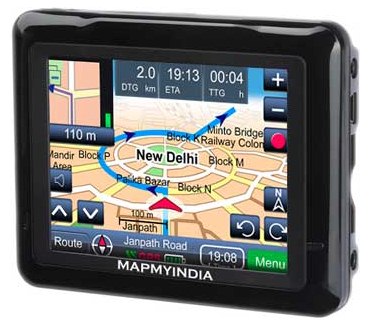 A basic navigation system will have a touchscreen display to display your maps. These systems provide turn by turn navigation along with other useful features like audio/video playback. Most popular devices come with screens in the range of 3.5 inch to 4 inch screens; however a larger screen size doesn't always mean a better system or higher price.
A quick look at what these devices offer.
Map navigation
Create itinerary
Plan routes
Locate places of interest
Wide map coverage
Map browsing
Connectivity features
Some systems also double up as hands free calling devices as they are equipped with Bluetooth and can be connected to your cell phones.
Advanced Navigation System
Rs. 11,000 to Rs. 25,000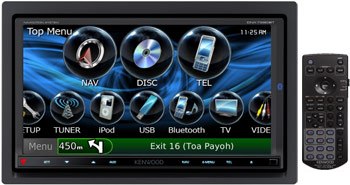 These devices are a step above and provide more than just basic navigation. Apart from the aforementioned features these systems also have certain other advantages. Some additional features you get on top-end systems are a 2 DIN in Car entertainment system, GPS Antenna, a rear view camera, head rest monitors etc.
So you get more than just a screen that helps you map your route. You get support for DVD playback, AM/FM, Bluetooth, turn- to- turn GPS Navigation, Windows compatible gaming, TV, SD card slot, USB, Mobile office, i-pod connectivity.
If you have a GPS device, share with us features you find useful and any other details.