Updated: 23/04/2012
With petrol prices rising month after month people are looking at alternate fuels like LPG. But what options do you have if you are planning to buy a LPG car? Take a look at this compilation to find out!
LPG for instance, is priced at Rs. 49.72 per litre (New Delhi) whereas petrol is priced at Rs. 65.64 per litre (New Delhi) and assuming a car gives 13 kmpl running on either petrol or LPG, the running cost using LPG is Rs.3.82 per km while the running cost using petrol is Rs. 5.04 kmpl. Hence, LPG makes a lot of sense in the current scenario if you are keen on reducing your fuel expenses.
But, there are two factors which you may have to tackle while buying a LPG-powered car. Firstly, the price of the LPG variant is roughly Rs. 40,000 more than the corresponding petrol variant. Hence, you have to keep in mind the additional budget required in buying a LPG car. Secondly, LPG cars exhibit a slight drop in performance when compared to their petrol counterparts. Also read: LPG is now more expensive than diesel!
The manufacturers themselves have given data regarding the power and torque of their LPG models which are lower by 1-10 bhp of power and 5-20 Nm of torque than the corresponding power and torque figures of petrol models. The following LPG cars are offered with factory fitted LPG kits that have passed safety tests and also come with manufacturer warranty.
Maruti Suzuki Wagon R Duo LPG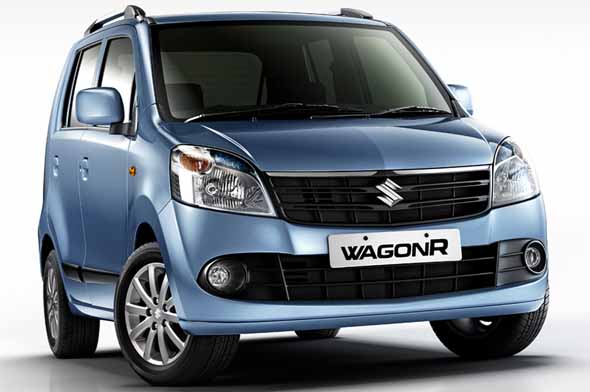 The Maruti Suzuki Wagon R Duo is fitted with an LPG kit certified by the Department of Explosives and ARAI. Backed by Maruti Suzuki's technology, the fitment is covered by a complete vehicle warranty. The LPG Kit is placed such a way that the boot space is not reduced.
Wagon R Duo has two tanks, one for LPG (22.5 litres capacity) and other for petrol (35 litres capacity). Owners can choose from LPG to petrol with a simple switch located near the right hand side of steering.
Wagon R is powered by a 998 cc, 3-cylinder engine that produces a maximum power of 62.5 bhp at 6200 rpm (LPG mode) and maximum torque of 85 Nm at 3500 rpm (LPG mode). In petrol mode, the same engine produces 68 bhp at 6200 rpm and 90 Nm at 3500 rpm of maximum torque.
[table id=871 /]
Chevrolet Spark LPG
Chevrolet Spark, the small car from GM has a comfortable cabin, refined engine and decent fuel economy. The Spark is attractive to many small car buyers because of its competitive price and 'zero maintenance' 3 years warranty. GM offers Chevrolet Spark LPG in two variants: LS and LT. The LPG kit of the car is placed in such a way that the cargo space is still available just like in the Spark petrol.
[table id=872 /]
Chevrolet Beat LPG
Chevrolet Beat, the stylish small car from GM will attract many buyers just by its looks. Beat is sold as the next-generation Spark in other markets. Like Spark, the Chevrolet Beat LPG also comes with a 3 years 'zero maintenance' warranty. The company claims a mileage of 13.30 kmpl for the Beat LPG. GM offers Chevrolet Beat with LPG kit equipped with Advanced Multipoint Sequential LPG Injection Technology that overcomes the limitations of the regular Venturi kit used widely today.
Chevrolet Beat LPG has a 'push to change fuel mode' button that allows the driver to easily change from LPG to petrol and vice versa. Additionally, the fuel system automatically shifts to petrol when there is no LPG left.
[table id=873 /]
Hyundai Santro LPG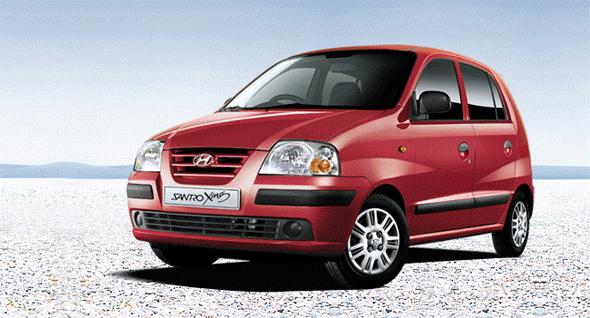 Hyundai launched the Santro LPG in September 2008. The Santro is one among the top ten largest selling cars in India. Santro comes in three trim levels, non-AC, GL Plus and GLS. Hyundai offers GL Plus and GLS with factory fitted LPG kits.
[table id=874 /]
Tata Indica eV2 eXeta LPG
The Tata Indica V2 is a good 'value for money' car known for its spacious interiors and mass market appeal. The diesel Indica eV2 variant is quite popular among taxi operators and the middle class buyers who want a practical family hatch. But the petrol eV2 eXeta didn't sell well. Tata Motors, however did not lose hope and offered LPG variant of eXeta in two trim levels, GLE and GLS.
[table id=875 /]
Hyundai Accent LPG
Hyundai launched the Accent LPG in May 2009. The Accent still continues to pose as a decent looking sedan with practical roomy interiors suiting the requirements of a family well. However, the performance of the 1.5 litre engine is average.
[table id=876 /]