Over the past three months the Indian car market saw a slew of new cars. Here's a compilation of the cars that were launched in the past three months in case you missed them!
We saw a host of launches right from luxury sedans to compact SUVs. The cars that were launched include the Audi Q3, the BMW 3-Series, the Renault Duster, the Chevrolet Captiva, the Chevrolet Cruze and the Mahindra Verito face lift. See below for more details on each of these cars.
Audi Q3
Launched: June 2012
Starting price: Rs.26 lakh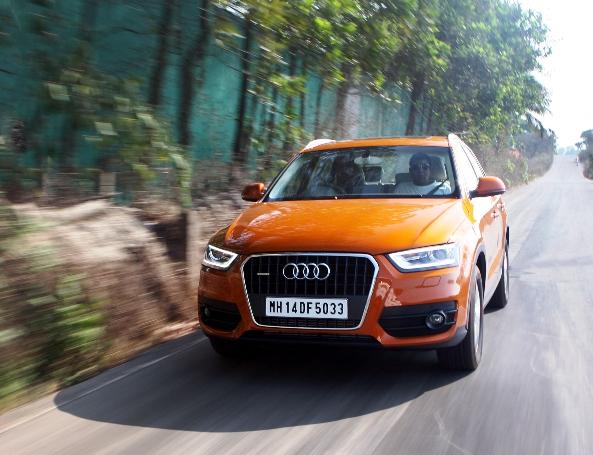 Audi India launched the Q3 5-seater SUV priced at Rs. 26.21 lakh for the base variant and Rs. 31.49 lakh for the top-end variant  (ex-showroom, Maharashtra). The Q3 will be sold at all 19 Audi dealerships but only 500 are open for booking as of now.
This all-wheel drive SUV from Audi has coupe-like styling, sharp headlights and a flat-set rear window. It is powered by a 2.0-litre diesel engine that puts out 177 Bhp of power and 380 Nm of torque. It is mated to a Quattro all-wheel-drive system with a 7-speed S-Tronic transmission and a petrol variant is expected later. For more about the Audi Q3 read: Audi launches Q3 in India starting at Rs. 26.21 lakh
Chevrolet Cruze
Launched: June 2012
Starting price: Rs.14 lakh
Chevrolet launched the new Cruze starting at Rs. 13.85 lakh which was an increase of Rs. 1.3 lakh over the previous base variant! Unlike most revamps this wasn't about exterior changes and the change was under the hood – a new engine and a gearbox.
The Cruze now comes with a 2.0-litre Z-series diesel motor mated to a six-speed manual transmission; the automatic variant also sports a six-speed transmission. The engine puts out 163 Bhp of power and 380 Nm of torque. Fuel efficiency is a claimed 13.9 kmpl for the AT and 17.3 kmpl for the manual transmission. Real world mileage figures will be around 12-13 kmpl.
New features on the Cruze include push button ignition on/off, programmable smart screen, power folding and heated outside mirrors, 4 channel rear parking assist, rain sensitive wiper system, cruise control on steering wheel, auto dimming inside rear view mirror, Bluetooth music streaming – and a power adjustable driver's seat and sun roof etc. Read more: Chevrolet launches new Cruze, prices start at Rs. 13.85 lakh
Chevrolet Captiva
Launched: June 2012
Starting price: Rs.19 lakh
Chevrolet India launched the 2012 Captiva SUV starting at Rs. 18.74 lakh (ex-showroom, Delhi). The new Captiva comes with cosmetic updates and also gets two engines: 2.0-litre diesel with a manual gearbox and 2.2-litre diesel with an automatic gearbox. The 2.2-litre turbo diesel motor produces 186.5 Bhp of power and is mated to a 6-speed automatic transmission. The lower variants are powered by the same 2.0-litre diesel motor that puts out 148 Bhp of power and mated to a 5-speed manual transmission as in the outgoing model. Read more: Chevrolet launches new 2012 Captiva
It adorns Chevrolet's bowtie split grille, large fog lamps, skid plates, integrated turn indicators on outside mirrors and the muscular wheel arches. Inside it has the same 2+3+2 seating arrangement as earlier and with both the rows folded flat, the luggage space of the Captiva is an enormous 1,565 litres.
Renault Duster
Launched: July 2012
Starting price: Rs.7.20 lakh
The Renault Duster petrol was launched at Rs. 7.19 lakh while the diesel starts at Rs. 7.99 lakh. It is available in 8 variants – two petrol and four diesel, with two option packs. It is a small yet muscular looking compact SUV based on the Renault Logan platform (now Mahindra Verito). It has 205 mm of ground clearance making it quite capable for off roading as well.
It comes with three engine choices – one petrol and two diesel. The petrol Duster gets a 1,598 cc four-cylinder which churns out 101 bhp of power and 145 Nm of torque. It is mated to a five-speed manual transmission and has a claimed mileage of 13.24 kmpl. Read more: Renault launches Duster compact SUV in India
The diesel Duster comes with two engines, both are 1,461 cc motors but have different power outputs. In the RxE and RxL models this engine produces 84 bhp of power and 200 Nm of torque with a claimed mileage of 20.46 kmpl. In the top-end RxZ Duster and the RxL Duster the same 1,461 cc common-rail diesel engine produces 108 bhp of power and 248 Nm of torque. This engine is mated to a six-speed manual transmission and has a claimed mileage of 19.01 kmpl.
BMW 3 Series
Launched: July 2012
Starting price: Rs.29 lakh
BMW India launched its sixth generation 3-Series sedan in India on July 27, called the F30 or Ultimat3. The car comes if five variants, four diesel and one petrol priced between Rs. 28.9 lakh and Rs. 37.9 lakh, ex-showroom Delhi.
The 3-Series comes with a choice of two engines. The diesel is powered by a 2-litre engine that puts out 184 bhp of power at 400 rpm and 380 Nm of torque. The petrol engine is a 2-litre twin turbo fuel-injected engine that puts out 245 bhp of power and 350 Nm of torque. Both engines are mated to 8-speed automatic transmissions. It has a claimed mileage of 18.9 kmpl for the diesel and 14.8 kmpl for the petrol. Read more: BMW 3-Series Ultimat3 raises the bar in entry-luxury segment
Mahindra Verito
Launched: July 2012
Starting price: Rs.5.27 lakh
Mahindra launched the face-lifted Verito sedan priced between Rs. 5.27 lakh and 7.14 lakh. Apart from a higher price tag the Verito also gets 23 new features. The Verito is available in the same five variants; the G2 priced at Rs. 5.27 lakh, G4 at Rs. 5.49 lakh, D2 at Rs. 6.26 lakh, D4 at Rs. 6.48 lakh and the top end D6 priced at 7.14 lakh. Read more: New Mahindra Verito Launched at Rs.5.27 lakh
It is powered by the same 1.5-litre DCi engine that powered the older model. This engine churns out 65 bhp of power and 160 Nm of torque. It has a claimed mileage of 21.03 kmpl (Diesel) as per ARAI. The Petrol Verito sports a 1.4 litre motor that churns out 75 bhp of power and 110 Nm of torque.