Is the newly launched Renault Duster more value for money than the Maruti Suzuki Ertiga or does Maruti's Ertiga make more sense for a buyer looking to upgrade from a sedan? Let's find out!
Where the Ertiga is better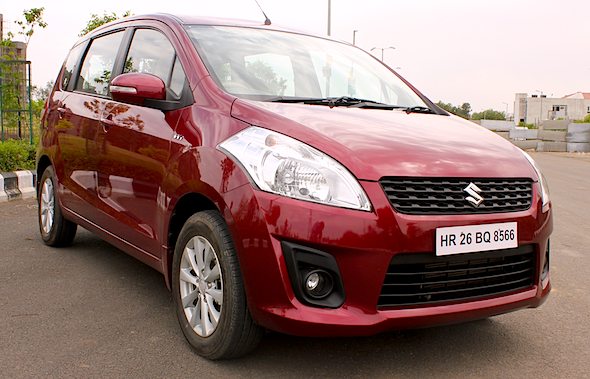 Price: The Ertiga and Duster both are offered with petrol and diesel variants. Now while the Ertiga is priced in the range of Rs. 5.90 lakh to Rs. 8.50 lakh, the Duster starts at Rs.7.19 lakh and goes all the way up to Rs. 11.20 lakh. This means in terms of price the Ertiga is much more attractive.
Space: In terms of space the Duster despite of its price does not offer more. In fact the Ertiga although not larger than the Duster still manages to offer seating space for seven passengers when the need be. The Duster does not have this flexibility. So that's another point in favour of the Ertiga. Also read: Renault Duster versus the world!
Mileage: The Ertiga has a claimed mileage if 17 Kmpl for the petrol variant and 21 Kmpl for the diesel variant. The Duster has a claimed mileage of 13 Kmpl for the base petro , 19 Kmpl for the 110 Bhp diesel and 20 Kmpl for the 85 bhp diesel. Once again the Ertiga is slightly better than the Duster.
Where the Duster is better
Luggage Space: The Duster has 475 litres of luggage space which is more than the Ertiga's boot space od 135 litres with all seats in place. Although folding the seats in the Ertiga can create an amazing 735 litres of boot space. The Duster still scores here as the luggage space with all passengers on board is more than that offered in the Ertiga.
Power: The Duster diesel's mid trim model has a power output similar to that of the Ertiga while the petrol Duster and the top-end diesel offer more power than the Ertiga. Also both the Ertiga and the Duster have a similar kerb weight (Duster: 1,240 kg, Ertiga: 1160 kg)
[poll id="18″]
Ground clearance: The Duster with its 210 mm of ground clearance is better equipped to handle both bad roads and mild off roading. The Ertiga too has a decent ground clearance of 185 mm but the Duster is slightly higher.
Verdict
The Ertiga is a good choice if you are on a tight budget and are planning to upgrade from a sedan but it does not have the feel of an SUV. The Duster may not be large and imposing like a traditional SUV but it looks much better than the Ertiga and also feels more luxurious.