Before the India-Bangladesh clash in the ongoing Cricket World Cup 2023, which ended with a victory for the Indian team, the captain Rohit Sharma made headlines for all the wrong reasons. Rohit Sharma, who currently serves as the captain and opening batsman of the Indian cricket team, was fined for over-speeding on the Mumbai-Pune National Expressway. We have obtained the complete details of the incident, which dispel a few rumors, including the actual speed at which Sharma was driving.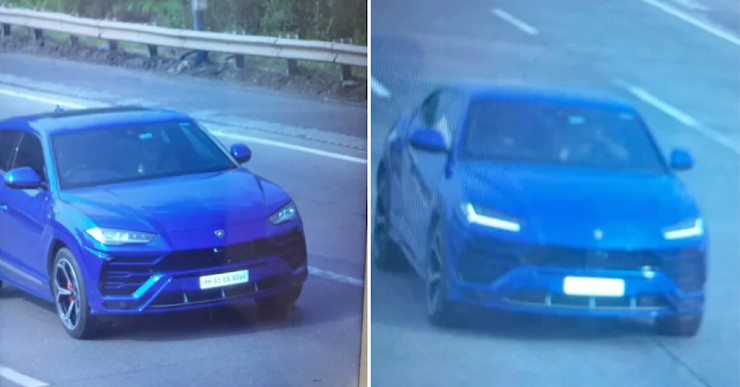 According to the official challan issued by the Highway Police, which has been leaked online, Rohit Sharma was fined for over-speeding while driving his Lamborghini Urus SUV on the Mumbai-Pune Expressway. Sharma was en route from his home in Mumbai to Pune to participate in the India-Bangladesh match at Gahunje Stadium in Pune.
Also read: 10 DC Design cars & how they look in the REAL world: Maruti Swift to Mahindra XUV500
During his drive on the Mumbai-Pune Expressway, Rohit Sharma exceeded the permitted speed limit of 105 kmph on two occasions. Footage captured by speed cameras installed on the expressway shows that he first exceeded the speed limit near Kamshet tunnel at 2:54 pm, with his Lamborghini Urus reaching a speed of 117 kmph.
The second instance of Rohit Sharma breaking the speed limit occurred near Somatane Phata on the Mumbai-Pune Expressway, where his SUV reached a speed of 111 kmph. These two documented instances of Rohit Sharma exceeding the speed limit, at 117 kmph and 111 kmph, contradict the rumors circulating on the internet claiming that he was driving his Lamborghini at speeds over 200 kmph.
According to the Highway Police, Rohit Sharma's violations of the speed limit were captured by the automated cameras installed on both lanes of the Mumbai-Pune Expressway. These cameras promptly record instances of overspeeding and issue online traffic challans, imposing penalties on the vehicle owner responsible.
In Rohit Sharma's case, he was fined a total of Rs 4000, with two fines of Rs 2000 each for exceeding the speed limit twice. The Highway Police also confirmed that Rohit had already paid the fines once the challans were generated by the automated system.
The news of Rohit Sharma's over-speeding in his Lamborghini Urus quickly garnered attention from many netizens. Most of them advised the Indian cricket team to drive cautiously during such an important tournament, while also recalling the serious car accident involving wicketkeeper Rishabh Pant earlier this year.
Also read: Upcoming 2022 Maruti Suzuki Vitara Brezza rendered