In India, vehicle theft is still a major issue in many parts. We have come across several cases where cars were stolen from the front of houses, parking lots at night, and sometimes even in broad daylight. Recently, we came across a news article reporting the disappearance of a large train engine worth Rs 5 crore during transportation. Online reports accused the sub-contractor of stealing the train engine. The news attracted a lot of attention due to the sheer size of the object that had gone missing. However, the train engine has now been returned to Mumbai.
Shree JB Grain Dealers is a contractor who was given the contract to transport a train engine from Mumbai to Kalka, Haryana, and back by the Indian Railways. The contractor assigned the task to a sub-contractor named Radha Roadways on April 27. The sub-contractor successfully transported the train engine from Mumbai to Kalka. Upon reaching Kalka, the same truck was loaded with a ZDM 3 train engine worth Rs 5 crore, which was scheduled to be transported from Kalka to Mumbai. The overall transportation cost for this project was fixed at Rs 4.25 lakh.
Also read: 10 DC Design cars & how they look in the REAL world: Maruti Swift to Mahindra XUV500
Both parties had signed an agreement, and according to the agreement, the sub-contractor was paid Rs 2 lakh in advance on April 29. On May 6, an additional Rs 1 lakh was paid, and on May 19, another lakh was paid to Radha Roadways. After making the payments, JB Grain Dealer was awaiting the delivery of the engine. When they realized that the engine was not delivered as scheduled, they contacted the officials in Kalka and discovered that the engine had already been loaded but never reached Mumbai.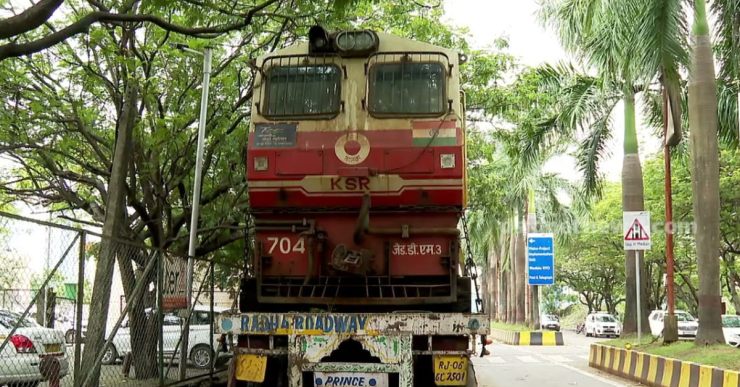 When JB Grain Dealer's owner contacted Radha Roadways' owner, Mr. Sharma, the owner allegedly claimed that the contractor had not paid the outstanding Rs 1 lakh, and an additional Rs 25,000 was also pending. Gupta, the owner of JB Grain, responded by stating that the pending amount would only be paid after the engine is delivered. In response, Radha Roadways' owner demanded an additional Rs 60,000 and requested clearance of the extra dues first.
On July 2, Gupta went to Wadala TT police station and registered a case against Sharma, under sections 406 (criminal breach of trust) and 420 (cheating) of the Indian Penal Code. Even the police officers were surprised to hear about this case, as it is likely the first time a train engine has gone missing. The police promptly responded and summoned Sharma. They discovered that the engine was being kept at a petrol station in Rajasthan. After locating the engine, it was transported to Mumbai. One of the officials working on this case said, "The root cause of the dispute was the damage that occurred to the engine during transportation from Parel Workshop to Kalka in April 2023. Shree JB Grain Dealers Association and Radha Roadways were having a dispute over the fine imposed by Railways due to the damage."
Also read: Upcoming 2022 Maruti Suzuki Vitara Brezza rendered