Now that India's first usable electric car, the Mahindra e2o has been launched, it begs for a comparison with a similarly priced petrol automatic hatchback and of course a frugal diesel hatchback.
In this comparison we'll give you the running costs and value for money appeal between a Chevrolet Beat diesel, a Hyundai i10 automatic petrol and a Mahindra e2o electric. This should put things in perspective for you as to how each fuel or power train choice would work for you. It's based on owners who would drive only about 50 to 60 km a day in the city. Also read: Mahindra e20 first drive impressions: Convenient city car
Mahindra e2o beats Beat and i10 on value for money based on features
The Mahindra e2o is priced at Rs. 6.4 lakh on-road Delhi for the fully-loaded Mahindra e2o T2 variant. It is comparable with the best hatches in terms of features. True, it lacks some safety features such as airbags and ABS, but other than that it has plenty of convenience features including climate control, GPS navigation, touch-screen Bluetooth infotainment system, reverse camera, push button ignition, full keyless entry, defogger, power windows, power mirrors, projector headlamps, alloy wheels etc. Also read: Mahindra e2o launched at Rs. 5.96 lakh
The Hyundai i10 Sportz automatic is priced at Rs. 5.30 lakh ex-showroom Delhi. It also does not come with ABS or airbags. In terms of features it four power windows, electric mirrors, manual HVAC, rear wiper, MP3 player and most importantly power steering. The on-road price of the i10 is similar to the e2o (as the e2o enjoys some VAT and duty deductions). At that price point, the e2o has more features to offer.
The Chevrolet Beat LT diesel is priced at Rs. 5.42 lakh ex-showroom Delhi. This variant does not have airbags and ABS (the LT option pack which includes this is priced at Rs. 5.91 lakh). On road pricing of the Beat diesel LT is slightly more than the Mahindra e2o. The Beat diesel offers automatic climate control, four power windows, power steering, rear wiper and defogger and integrated music system. Again the e2o beats this variant of the Beat on features. Also read: Pros and cons of Chevrolet Beat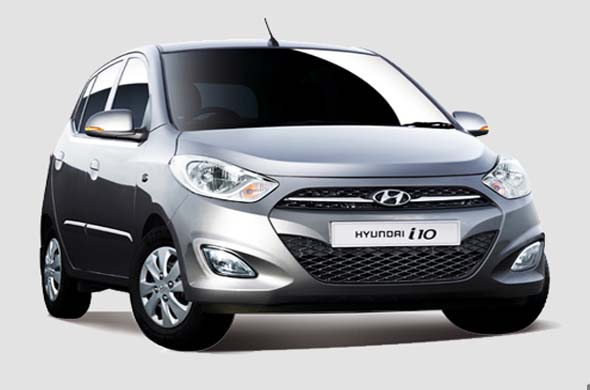 Mahindra e2o offers lowest daily running cost per kilometre
The Hyundai i10 is powered by a 1.2 litre petrol engine that puts out 79 bhp of power and 111 Nm of torque with a four speed automatic transmission. Claimed fuel efficiency is 17 kmpl, and for the purpose of this comparison, let's take this figure (although real-world figures are around 10-11 kmpl in city). Taking petrol at Rs. 70 per litre on average, the running cost per km of fuel alone comes to Rs. 4.11 per KM at its claimed mileage. Real world running cost would be about Rs. 7 per KM. Also read: Five best small cars for heavy city usage
Let's look at the Beat diesel. It is powered by a 1-litre, three-cylinder diesel engine that puts out 58 bhp of power and 150 Nm of torque with a five-speed manual transmission. It is really fuel efficient at 24 kmpl claimed mileage (real-world city mileage is also good in the region of 18 kmpl). Taking diesel at Rs. 50 per litre at present, that works out to a per km running cost of Rs. 2.1 per km on its claimed mileage with real-world cost of about Rs. 2.77 per km.
The Mahindra e2o is seemingly underpowered in comparison, with a 19Kw electric motor (26 bhp in petrol motor terms), putting out 53 Nm of torque with a direct drive automatic transmission with two modes – normal and boost. It has a range of 100 km per charge. A full charge takes five hours' time and uses about 8 units of electricity. Taking unit cost of electricity at Rs. 10 per unit (it's cheaper for domestic use), a full charge of the car costs about Rs. 80, working out to a per km running cost of Rs. 0.80 (80 paise).
The Hyundai i10 automatic can do about 350 km on a full tank in the city, compared to 100 km on a full charge for the e20, while the Beat diesel can do nearly 700 km on one tankful. To keep this comparison simple we haven't factored in service and maintenance cost, where again the Hyundai i10 is the most expensive, followed by the Beat diesel (which works out quite cheap because of GM's maintenance package) and then the Mahindra e2o, which requires service only once a year – plus it has no oils to change. Also read: Hyundai i10 vs Honda Brio vs Maruti A-star automatics compared
The most expensive replacement is the lithium-ion battery pack, which lasts about 3000-5000 charge cycles depending on usage and weather conditions, which gives it a life span of about 5-7 years, and would cost about Rs. 1.5 lakh.
Running and maintenance costs comparison over five years
[table id=1022 /]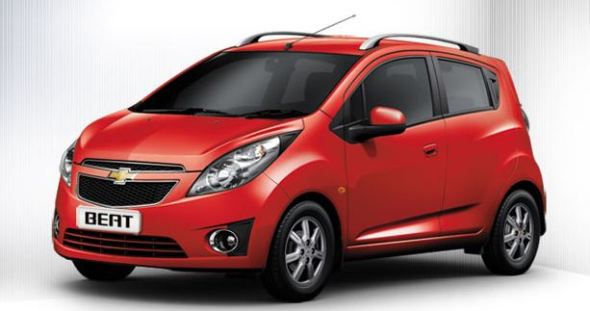 Which car works for you?
Beat offers lowest overall running cost, followed by Mahindra e2o
If you drive more than 100 km a day then the Chevrolet Beat diesel is the car with the lowest running cost, but does not have the convenience of an automatic transmission. In a five year period, the Chevrolet Beat is the car with the overall lowest running cost.
If you want the convenience of an automatic transmission and a feature-rich car at the lowest running cost and don't do over 80 km a day, the Mahindra e2o works for you. Because of an expensive battery replacement after about five years or so, the running cost of the Mahindra e2o is better than the petrol i10 but loses out to the Beat diesel. The benefit though is no vehicular emissions, lower maintenance and no need for a PUC certificate.
If you use your car only occasionally but have to drive over 100 km a day, albeit at a higher cost, but want the convenience of an automatic transmission, then the Hyundai i10 automatic beats the e2o on range coverage, but is the most expensive to run over a five year period. Also read: Best cars for bumper to bumper city traffic