Those of you who were brooding over not being able to get your hands on a Fiat Linea T-Jet, here's some news to cheer you up. Fiat is launching the updated Fiat Linea T-Jet in March 2013, with "new features and more value for money", to quote a Fiat official spokesperson's email response to a query by CarToq expert Joy Mrc. The mail specifically asks Joy to wait till March end to book the new T-Jet. 
The Fiat Linea T-Jet is the best-driving Fiat Linea model yet, as it is a car that appeals to enthusiasts seeking power and luxury. The car is powered by a 1,368 cc (1.4 litre) turbo-petrol engine that puts out 113 bhp of power at 5,000 rpm and 211 Nm of torque at 2,200 rpm. This motor is mated to a five-speed manual transmission and makes the Linea T-Jet quite a performer when it comes to outright acceleration because of the increased torque – making it one of the best in the mid-size segment for thrill seekers. And because of the use of higher-compression and turbo-charging, the car is more fuel efficient than the regular 1.4 Linea petrol, which puts out 92 bhp of power and 117 Nm of torque. Fiat was selling the earlier T-Jet at a huge discount to get rid of stocks. Also read: Huge discounts on Fiat Linea T-Jet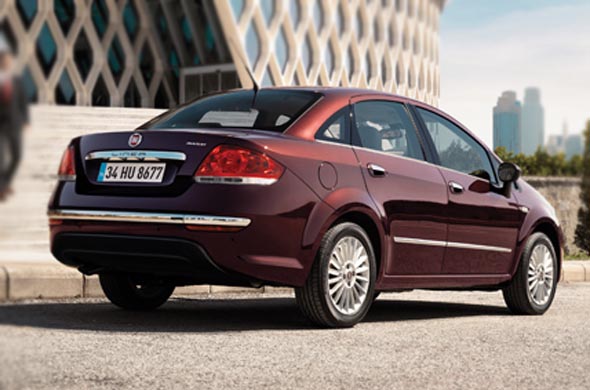 So what's likely to be new with the 2013 Fiat Linea T-Jet?
Going by how the previous Fiat Linea T-Jet first showcased the best features the Linea could get and which eventually trickled into the other variants of the Fiat Linea, we expect Fiat to add some "new features" in the 2013 Fiat Linea T-Jet as well, considering it will be the company's flagship Linea. Could it be that the "facelift" (as seen on the Turkey production model Linea) will be available on the upcoming Fiat Linea T-Jet? Or could it be just an Emotion spec petrol? Also read: 2013 Fiat Linea official images out
Considering the present Fiat Linea Emotion (1.3 Multijet diesel) has all the features the previous petrol T-Jet had on it, such as 16-inch alloys with 205/55 R16 tyres, full-chrome grille, and leather upholstery and that there is no Emotion variant currently in the petrol line up – the Fiat Linea T-Jet is likely to take that spot, coming with all the trim that the Emotion variant has. This includes automatic climate control, Bluetooth, automatic headlamps, rain-sensing wipers, two airbags, ABS, programmable multi-info display, voice commands, steering audio controls, front & rear fog lamps, etc, and of course increased ground clearance of 185 mm. Also see: 2012 Fiat Linea Dynamic 1.4 petrol video review
What we think
We think the Fiat Linea T-Jet petrol that will be launched end of March will come with all the trim goodies that the Emotion spec diesel has, and may include some additional goodies such as a Sat-Nav touchscreen infotainment system as an option. Structurally and cosmetically, there aren't likely to be any changes to the car, as those changes are likely being reserved for the "Linea facelift" planned for later in the year, unless Fiat plans to play Santa Claus and spring a surprise on all of us. Also read: Fiat Linea is running out of steam and time
However, do expect the joy of driving the 1.4 turbo-charged petrol motor all over again, and at competitive prices. We expect the fully loaded Fiat Linea T-Jet to be priced at about Rs. 9 lakh to Rs. 9.25 lakh ex-showroom, giving the Honda City, Hyundai Verna, Volkswagen Vento and Ford Fiesta a run for their money, quite literally. And it may come as a life-saver for the fast-disappearing Linea. Also see: 2010 Fiat Linea T-Jet road test and review