Skoda joins the festival melee but continues the on-going trend of automakers limiting their discounts to mainly petrol versions of their cars.
The excellent Skoda Laura 1.8 Classic and 1.8 Ambiente get a massive discount of Rs. 1.48 lakh. Fabia 1.6 Mpi Elegance gets cheaper by no-less impressive Rs. 61,700. Yeti, which is available in diesel only, gets a price cut of Rs. 75,000.  These offers are valid up to October 31.
Laura better deal than Civic
The 160-BHP Laura versions are a driving enthusiast's delight.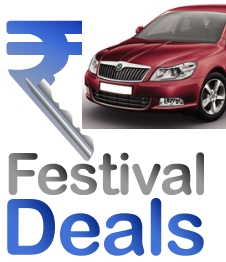 The base version, 1.8 Classic priced at Rs. 12.44 lakh can now be bought for Rs. 10.96 lakh. That's a good Rs. 1.5 lakh less than Honda Civic which also targets those who love driving their cars fast. Both are evenly matched on specs. So the price cut puts Laura well ahead.
The higher-end Laura 1.8 Ambiente priced at Rs. 13.48 lakh can be had for Rs. 12 lakh. The car is fully-loaded with every conceivable feature in this class except cruise control. And yet, it too will cost about Rs. 50,000 less than base Honda Civic.
Fabia discounts from Rs 28,700 to Rs 61,700
For those who yearn for speed but might find Laura expensive even after the discounts, there is good news. Skoda's 105-BHP hot hatch Fabia 1.6 Mpi Elegance gets a hefty Rs. 61,700 off its price of Rs. 6.11 lakh bringing it down to a very reasonable Rs. 5.5 lakh. And it's equally or better spec-ed than any other car at this price.
The Fabia 1.2 Mpi Elegance priced at Rs. 5.79 lakh can be had for Rs. 5.25 lakh—again a pretty good price for car that's fully loaded and includes safety features such as 2 Airbags, ABS and EBD.
Fabia 1.2 Mpi Ambiente gets discounted by Rs. 44,700 bringing down its price to Rs. 4.54 lakh which, while good, isn't good enough to beat the superb value-for-money offered by Ford Figo 1.2 Duratec Titanium priced at Rs. 4.67 lakh. Ford is absolutely loaded and well worth the extra Rs. 13,000.
The base Fabia 1.2 Mpi Classic sees its price reduced by Rs. 28,700 from Rs. 4.43 lakh to about Rs. 4.15 lakh making it a mighty good alternative to Ford Figo 1.2 Duratec ZXI priced at Rs. 4.29 lakh.
Yeti boost?
Yeti, the small-but-expensive SUV from Skoda gets Rs. 75,000 off but its lackluster sales (only 50 units sold in September, 2011) and reports that cheaper version might be round the corner, take the sheen off the deal.
Skoda's luxury sedan Superb, which has held its own against Honda Accord and Volkswagen Passat does not get any deals.
Conclusion
If you are looking for a hatchback or sedan with class-leading power, Skoda is offering some great deals.
Otherwise too, couple of Fabia models represent pretty good value—at least till Ford announces its deals by weekend.
You might want to wait till then. Watch this space for Ford deals in the next few days.