Czech car maker Skoda has been in India for nearly 10 years, with the Octavia becoming a huge hit among mid-size luxury sedan buyers. Skoda now has an entire line up of cars for every budget and customer taste, from the Fabia hatchback to the luxurious Superb.
Skoda Fabia
Skoda unveiled the new Fabia on October 13. This is a an upgrade/price correction that has been due for a long time. The original Fabia was a good hatchback too, but its premium pricing in a market where lots of other, cheaper cars were available meant that this car was doomed for low volume sales. At around Rs 8.66 lakhs for the top-end Elegance model, the Fabia's price put off buyers.
However, this has been rectified by Skoda thanks to a 40 percent localization of parts. The new Fabia comes with a host of features as well as an aggressive price tag. Read about the new Skoda Fabia
The new Skoda Fabia comes with three new engine variants — a 1.2-litre, 75 bhp petrol, a 1.2 litre 75 bhp diesel and a 1.6-litre, 105 bhp petrol engine — sourced from its parent, Volkswagen. Skoda offers three trim levels namely Classic, Ambiente and Elegance.
The new Fabia gets a large and wide front bumper, elongated headlamps, new fog lamps, signature grille and newly contoured bonnet. The bumper is wider and set lower to lend the Fabia an athletic stance.
Inside, the changes include height and reach-adjustable steering, power windows, rear air-con vents (under the seat), dual glove box, coat hooks and all fabric upholstery (no leather). A multifunction display gives details on the distance travelled, average speed, immediate fuel consumption, average fuel consumption, distance to empty, service interval, outside temperature etc.
Safety features include ABS, motor speed regulator, engine brake control (EBC) and dual rate brake assist. Airbags are standard across all variants. Buyers can choose from five different shades: Cappuccino Beige, Brilliant Silver, Candy White, Deep Black and Flash Red.
Skoda says it has achieved 40 percent localization of the new Fabia from the 15 percent previously. It also shares many parts with the Volkswagen Polo. Skoda India is also working on the possibility of launching S and RS versions of the Fabia in the future with more powerful engines.
| | | | | | |
| --- | --- | --- | --- | --- | --- |
| Variant | Mumbai | Delhi | Bangalore | Chennai | Chandigarh |
| Fabia 1.2 Mpi Classic | Rs. 4,35,000 | Rs. 4,20,216 | Rs. 4,36,725 | Rs. 4,32,877 | Rs. 4,35,000 |
| Fabia 1.2 Mpi Ambiente | Rs. 4,85,000 | Rs. 4,69,269 | Rs. 4,87,169 | Rs. 4,82,877 | Rs. 4,85,000 |
| Fabia 1.2 Mpi Elegance | Rs. 5,68,000 | Rs. 5,50,688 | Rs. 5,70,907 | Rs. 5,65,877 | Rs. 5,68,000 |
| Fabia 1.2 TDI Classic | Rs. 5,40,000 | Rs. 5,23,225 | Rs. 5,42,658 | Rs. 5,37,877 | Rs. 5,40,000 |
| Fabia 1.2 TDI Ambiente | Rs. 5,91,000 | Rs. 5,73,259 | Rs. 5,94,111 | Rs. 5,88,877 | Rs. 5,91,000 |
| Fabia 1.2 TDI Elegance | Rs. 6,69,000 | Rs. 6,49,776 | Rs. 6,72,805 | Rs. 5,65,877 | Rs. 5,99,000 |
Skoda Octavia
Launched in 2001, Skoda heralded this sedan as 'one of a kind' in its class. And that was true for a while. But now the Octavia has begun to show its age and dwindling numbers seem to justify Skoda's decision to recently pull this car out of its Indian portfolio.
The Skoda Octavia comes in four main trims – Octavia Rider, Octavia Ambiente, Octavia L&K, and Elegance. The series is offered in petrol and diesel versions with a choice of two transmissions – a 5-speed manual and a 4-speed automatic.
The petrol 1.8 L turbocharged engine is equipped with an electronic multi-point fuel injection system. This engine is fuel efficient and delivers an impressive 150 bhp at 5,700 rpm and a maximum torque of 210 Nm at 1750-4600 rpm. The 1.9 L turbocharged diesel engine is fitted with a high-pressure direct injection system that is very smooth and offers hassle free driving. The engine produces a maximum power of a rather pedestrian 90 bhp at 4,000 rpm and a maximum torque of 210 Nm at 1,900 rpm.
The Elegance, with 4-speed automatic transmission, has 'fuzzy logic' that facilitates a smooth driving experience. The instrument cluster has a mini dot display that updates the driver at all times about which gear he is driving in. All these engines are frugal, sprinters and display adequate passing power.
The Octavia displays an orderly design with no unwanted mass. It's more about straight lines than curves. It looks suitably contemporary with the subtle nose section and high waistline. The build quality is as good as it can get and is reflected in the way the Octavia looks. The Octavia is based on the previous-generation VW Golf, hence the limited space in the cabin.
But the cabin is armed with plenty of safety features as well as comforts such as an electronically-regulated climatronic air conditioner, a 12V DC outlet and ashtrays for the front as well as the rear seats.
Some available accessories across trims include door sill covers with a stainless-steel decorative strip, leather steering wheel, a three-piece wood trim set (for the mid-console), alloy wheels, child safety equipment, electric windows, independent seat heating, cruise control, sunroof and central locking. High intensity Xenon headlamps ensure good visibility. Fog lamps have also been integrated in the headlights.
| | | | | | |
| --- | --- | --- | --- | --- | --- |
| Variant | Mumbai | Delhi | Bangalore | Chennai | Chandigarh |
| Octavia 1.9 TDI Ambiente | Rs. 11,50,452 | Rs. 11,19,165 | Rs. 11,45,329 | Rs. 11,45,329 | Rs. 11,60,201 |
| Octavia 1.9 TDI Elegance | Rs. 13,13,121 | Rs. 12,78,781 | Rs. 13,07,998 | Rs. 13,07,998 | Rs. 13,24,678 |
Skoda Laura
The Laura, like its predecessor the Octavia, is based on the VW Golf platform, albeit the new generation A5 platform. The car is a symphony of contemporary styling, unrivalled build quality, frugal engines, and luxurious interiors. In essence, it is a second generation Octavia. Related: Skoda Laura to get CRDi diesel
The artistically-designed and very contemporary and European Laura offers a comfortable and pleasurable ride on all types of roads and sports a host of elegant and functional features. It is also packed with an assortment of advanced technologies that help heighten comfort levels. The car offers optimum safety with abundance of new and advanced safety and security features.
The Skoda Laura is available in three variants: Skoda Laura Laurin & Klement, Elegance, and Ambiente. These variants are available with a choice of three engines: 1.8-litre TSI (Turbocharged Fuel Stratified Direct Injection) petrol, 1.9-litre TDI PD (Turbocharged Direct Injection with Pump Duse), and 2.0-litre TDI PD, that generate 160 bhp, 110 bhp and 140 bhp respectively.
The TSI engine is a combination of a turbocharger, a stratified direct fuel injection system, and variable valve timing. The combination of these three advanced technologies ensures higher performance and better mileage. The TDI Pump Duse engine is an advanced technology diesel that plays a vital role in improving the engine's response and providing better acceleration. The Pump Duse technology was pioneered by the Volkswagen group.
The 1.8-litre TSI is available in the Ambiente with a 6-speed manual transmission and the 2.0-litre TDI PD is available in the Laurin and Klement with a 6-speed automatic transmission. The 1.9-litre TDI PD is available in both Elegance and Ambiente with an option of 5-speed manual transmission and 6-speed automatic transmission.
Inside, the car boasts modern design elements and high quality materials. The chrome interior door handles, plush Ivory upholstery, and wood decor exude warmth and elegance. Features like 12-way electrically adjustable driver seat, heated front seat, sophisticated audio player with 6.5 inch LCD TFT color touch screen, and steering mounted audio controls offer a comfortable and pleasurable ride all the time.
Moreover, dual zone climate control, multi-function display, cruise control, reading spot lamps, and adjustable rear air conditioning vents enhance inner comfort. A special feature of the car is the Light Assistant Technology that automatically switches on the lights of the car for a specific period when approaching the car or while leaving it. This ensures visibility even in the dark and helps users find their way easily.
Skoda is working on an aggressive marketing strategy with all its products and the Laura fits in perfectly as a prime segment straddler as it caters to both lower and upper D segment requirements, while coming across as a total value for money proposition.
| | | | | | |
| --- | --- | --- | --- | --- | --- |
| Variant | Mumbai | Delhi | Bangalore | Chennai | Chandigarh |
| Laura Ambiente MT | Rs. 13,76,238 | Rs. 13,43,690 | Rs. 13,74,114 | Rs. 13,74,114, | Rs. 13,91,530 |
| Laura Elegance MT | Rs. 15,23,827 | Rs. 14,88,388 | Rs. 15,21,703 | Rs. 15,21,703 | Rs. 15,40,758 |
| Laura L&K MT | Rs. 16,08,491 | NA | NA | NA | NA |
| Laura L&K AT | Rs. 18,01,032 | NA | NA | NA | NA |
Skoda Superb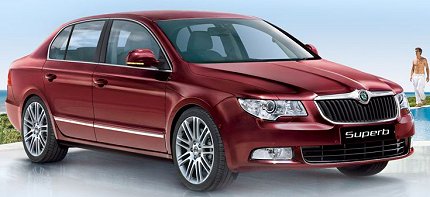 This is the top of the line offering form the Skoda stable – the Superb. The car has an understated elegance to it. It seems like a natural design progression from the Laura. It is well-proportioned, clear-cut, and without doubt, influenced by its German parent Volkswagen. The Superb's striking exterior style with distinctive interior features offer a strong visual emotion. Intelligent styling lines and a bold appearance define the unique nature of this car.
The Superb is available in three petrol variants and one diesel variant. The petrol version gives a choice of two engines – a 1.8-litre turbocharged engine that generates 160 bhp and 3.6-litre V6 engine with an output of 260 bhp. The diesel version sports a 2.0-litre turbocharged engine that delivers 140 bhp. Related: Skoda Superb 1.8 TSi MT petrol launched
The 1.8-litre engine comes with options of 6-speed manual transmission and 7-speed automatic transmission with tiptronic manual gear changing compared to a 5-speed automatic gear box in the old Superb. The 3.6-litre petrol engine and 2.0-litre diesel engine sport a 6-speed automatic gearbox with tiptronic manual gear changing. These engines are very refined. The performance is more than adequate. The overall ride quality and handling are really good keeping in mind the size of the car.
The plush interiors of the Superb truly mesmerize its occupants. The cabin is full of small storage spaces that are tucked away within easy reach. A unique climate controlled travel box is fitted into the flip-out rear seat armrest. There is a wet case for storing umbrellas, like the Maybach, as well.
Climatronic air conditioning system is integrated in the dash, with vents in the front and rear of the cabin. The central console and gear knob look elegant with a wooden finish. Entertainment systems consists of a CD/radio player with MP3 playback.
There is not much of transfer of road conditions into the cabin thanks to the well-adjusted suspension. The plush interiors, loads of space and a long list of creature comforts makes it a good car to be driven around in.
The Superb is laden with safety features that facilitate safe driving and help the driver to acquire control over the vehicle at critical situations. Anti-lock Braking System, Acceleration Skid Restrain System (ASR), Electronic Stability Program (ESP) and Electronic Brake Assistance (EBA) are the key safety features of the Superb. The car is equipped with six airbags in order to shield the driver and co-passengers in the event of collisions.
| | | | | | |
| --- | --- | --- | --- | --- | --- |
| Variant | Mumbai | Delhi | Bangalore | Chennai | Chandigarh |
| Superb TDI | Rs. 22,45,628 | Rs. 21,89,931 | Rs. 22,41,381 | Rs. 22,41,381 | Rs. 22,41,381 |
Skoda Yeti 4×4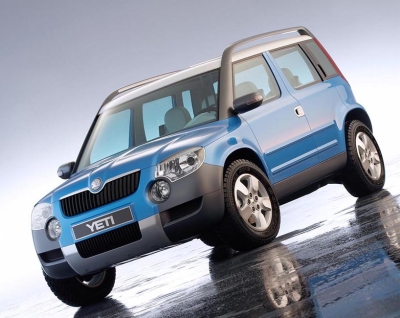 The Skoda Yeti is not really an SUV – a crossover vehicle is more like it; something between a car and an SUV. The Yeti, smarter-looking and less bulky than the usual SUVs, will serve well for both urban driving and weekend driving. The Yeti in India comes in an all-wheel drive variant, with a Haldex clutch to transfer power to the rear wheels when the situation demands. Its long-travel suspension and 180mm ground clearance make the Yeti competent enough for off-road tracks.
Recent stories about the Skoda Yeti
Update: Skoda Yeti launched; Yeti Ambiente and Elegance prices revealed
Skoda Yeti priced Rs 17 lakhs approx
Skoda Yeti to hit showrooms in Nov 2010
The Yeti borrows features from the Skoda Roomster and the VW Golf-based Tiguan SUV. The SUV has a wrap-around windscreen, retro white roof, and roof rails that carry on till the rear of the vehicle. The compact SUV has squared-off lines and, in the front, the recessed fog lights are inset into the headlight groove, giving it a unique look.
Skoda has launched the Yeti powered by a 2.0-litre 140 bhp diesel engine. The Yeti will be put together using kits shipped from Skoda's Kvasiny plant in the Czech Republic. It has about 40 percent localized content and will be assembled at the company's Aurangabad plant. The compact SUV is priced between Rs. 15.4 lakh and Rs. 16.62 lakh, ex-showroom Delhi.