The Skoda Kodiaq comes across as a well packaged 7-seat premium SUV, one that is loaded to the gills with equipment. And this is essential as it competes in a segment that offers stiff competition in the form of the Ford Endeavour and the Toyota Fortuner. So what are some of these features that give the Czech offering an upper hand? Lets have a look:
Clever bits
Skoda loves coming up with innovative solutions that up the ownership experience quotient several folds. In the Kodiaq, for instance, you not only get dedicated umbrella holders, but also a power nap package for the 2nd row seats. This consists of pop-out head rest extensions that keep your, err, head in place during a nap. Next are the door edge protectors, a detachable boot light that doubles up as a torch and even voice enhancement that instantly transmits your voice throughout the car via the speakers. None of these aids are offered in the Ford Endeavour or the Toyota Fortuner.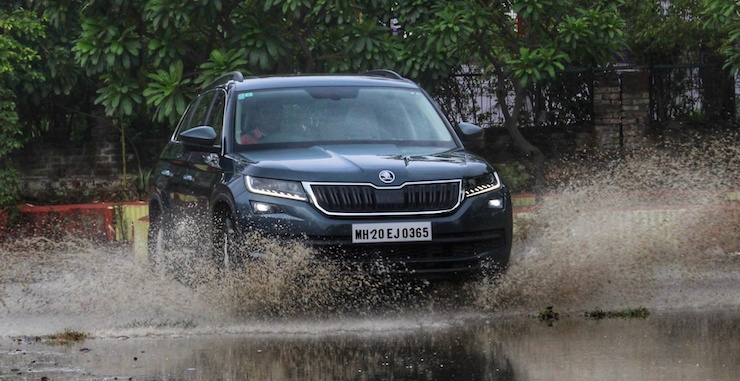 Boot access
While both Kodiaq and Fortuner come with smart entry and push button start, the Kodiaq earns brownie points by offering a hands-free tail gate operation. With the key fob in your pocket, all you need to do is walk up to the car and swing your leg under the boot. The sensors react to the presence of the key fob and help pop open the tail-gate. Simple and so useful.
Driver fatigue detection
The Kodiaq will know if the person behind the wheel is tired or sleepy. This is possible by the numerous sensors that monitor the way you drive the car and this is compared with pre-set parameters. The moment a driver feels tired, sleepy or drowsy, the same gets reflected in the way he gives steering inputs and is in turn picked up by the sensors. During such scenarios, the Kodiaq alerts the driver immediately. This feature is not offered in the other two SUVs.
More Airbags
While both the Fortuner and the Endeavour offer 7 airbags, the Skoda Kodiaq offers two more, taking the count to 9! These include curtain airbags and even one for your knee. Further, the Kodiaq comes with a 5-star safety rating as per Euro NCAP test regulations.
Better box
And I am not just talking about the number of gears here (7 for the Kodiaq as compared to 6 on the other two), but the brilliant DSG or direct shift gearbox of the Kodiaq that gives it an effortless performance in spite of lower output figures. Gear shifts are quicker than the other two vehicles and you also get driving modes along with a tip-tronic function.
Extra features aside, we do agree that the Kodiaq does not offer the same road presence as the other two. It is also a less capable vehicle off the road given the lack of a proper 4×4 system and lower ground clearance. Sold in only one variant, the Kodiaq is more expensive and the other two models offer multiple variants and hence a lower starting price point. But if comfort and features are high on your priority list, the Kodiaq has a clear edge. Do watch our review below –