Skoda Auto will launch the much-expected Yeti SUV on November 15, 2010. The price of the Yeti is expected to be Rs. 17 lakh (ex-showroom, Delhi). Update: Skoda Yeti launched; Yeti Ambiente and Elegance prices revealed
According to a senior executive of Skoda Auto, Yeti is positioned to provide a car-like driving experience while maintaining the toughness associated with European SUVs. He added that the company has provided a "rough road package" to adapt the Yeti to Indian conditions.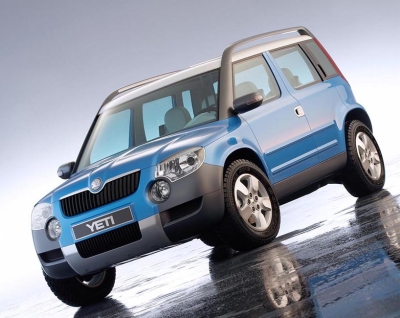 Skoda's first SUV, the Yeti, was first showcased at the Geneva Motor Show in March 2009. At 4.22 m long,  1.79 m wide and 1.69 m tall, the Yeti is smaller (but taller) than the Honda CR-V, which is 4.53 m long, 1.82 m wide and 1.45 m tall. Look closely and the Yeti actually resembles a grown-up Fabia. Related story: Skoda Yeti India launch
The signature Skoda grille and oversized fog lamps add to the dynamic characteristics of this capable off-roader. The body-colored B-pillar and blackened C-pillar make the Yeti stand out from the crowd. Roof rails, besides adding to the attractiveness, complement the Yeti's sporty, outdoor character. The rear warning lamps gel well with the square shaped boot door. Update: Skoda Yeti 2.0 diesel road test
The Skoda Yeti is based on the successful Laura platform boasting of a sophisticated independent suspension system tuned to Indian conditions. In fact, the Yeti also shares the same 2-litre TDI engine of the Laura, which churns out 140 bhp of power at 4,000 rpm and 32.6 kgm of torque at 1,750-2,500 rpm.
The all-wheel drive system features a fourth-generation Haldex system that can drive extra power to the rear wheels whenever the need arises. While the Yeti is meant to be no speed demon, it can reportedly touch 190 kmph with ease and can handle its fair share of rough roads and slippery conditions.
The Skoda Yeti will be loaded to the gills with various safety features—ABS, traction control, Electronic Differential Lock (EDL), Electronic Stability Program (ESP), Hydraulic Brake Assist (HBA) and Anti-Slip Regulation (ASR). Hill Start Assist and Hill Descent Control System for additional control in mountainous terrain will make the Yeti a pleasure to take to the hills.
Yeti will feature 6 airbags making it one of the safest  compact SUVs. It has already bagged a 5-star safety rating from Euro NCAP. Read about other mid-range SUVs in India
Steering will be height and reach adjustable while daytime running lights, electric rear view mirrors, VW-sourced touch screen SAT NAV unit will likely be standard equipment. The central console will have an inbuilt audio unit with MP3 and iPod support.
Skoda Yeti detailed video
The Skoda Yeti has plenty of SUVs to compete with in the Indian market, each with a character and fan-following of its own.
Here's how the Yeti stacks up against the competition, with rounded-off ex-showroom prices in Delhi:
| | | | |
| --- | --- | --- | --- |
| SUV | Engine | Power | Price (approx) |
| Skoda Yeti | 2.0 litre diesel | 140 bhp | Rs. 17 lakh |
| Ford Endeavour | 3.0 litre diesel | 155 bhp | Rs. 18 lakh |
| Chevrolet Captiva | 2.0 litre diesel | 150 bhp | Rs. 19 lakh |
| Toyota Fortuner | 3.0 litre diesel | 170 bhp | Rs. 20 lakh |
| Mitsubishi Outlander | 2.4 litre petrol | 168 bhp | Rs. 20 lakh |
| Mitsubishi Pajero | 2.8 litre diesel | 117 bhp | Rs. 20 lakh |
| Hyundai Santa Fe | 2.2 litre diesel | 197 bhp | Rs. 21 lakh |
| Nissan X-Trail | 2.0 litre diesel | 149 bhp | Rs. 21 lakh |
| Honda CR-V | 2.4 litre petrol | 151 bhp | Rs. 22 lakh |
As the Indian economy is taking a turn for the better, it is changing the lifestyle of the old and young alike. More people are placing an emphasis on quality with utility. Travelling out during weekends is also becoming a growing trend and this is fueling demand for sport utility vehicles. Yet, a large number also want something compact enough for daily city drives. That's a space the Yeti fits right into.
Want to see your photo feature about that exciting road trip published on Cartoq? Share your details here