Bengaluru city is infamous for its traffic jams and people are constantly coming up with new ways to tackle the same. Many of them rely on public transport while some use two-wheelers. Many people even prefer using a bicycle to escape the traffic. Recently a very unique-looking vehicle was spotted in Bengaluru. One of the road users managed to click some pictures and videos of the vehicle and people are wondering about this strange vehicle. The vehicle is actually a Velomobile which looks like something straight out of a sci-fi movie.
Now this is some @peakbengaluru stuff. Met this guy near JP Nagar. Human powered vehicle from Netherlands. pic.twitter.com/r1whYjPQlX

— Revanth (@RevanthD18) January 22, 2023
The images and videos have been shared by a Twitter user named Revanth. Velomobile is actually special type of bicycle which is commonly seen in European countries. It is actually a three-wheeled bicycle car that comes with an outer protective cover. The cover is designed in an aerodynamic manner. Rider sit in a reclined position and can do decent speeds as well. The outer protection cover or the shell provides weather protection. Three wheels on the Velomobile provide balance and it also comes with storage space to keep stuff.
Also read: Modified Royal Enfield Thunderbird 500 motorcycle from Eimor Customs look beautiful
It is actually a great alternative for those who are looking for a vehicle that will help them tackle the busy city roads during office hours. The three-wheeled cycle seen here is actually not something manufactured in India. As of now, there is no manufacturer who make such a bicycle for India. This particular bike was imported by a bike store in Bengaluru last year. Cadendce90 is the bike store that officially sells this cycle in India.
This three-wheeled bicycle is manufactured by a Romanian company Velomobileworld. Velombile bicycles are not cheap to buy. The base variant of this three-wheeled bicycle car would cost around Rs 14 lakh in India. The model that was spotted in Bengaluru costs around Rs 18 lakh. Customs and shipping cost of this product alone costs Rs 1.5 lakh.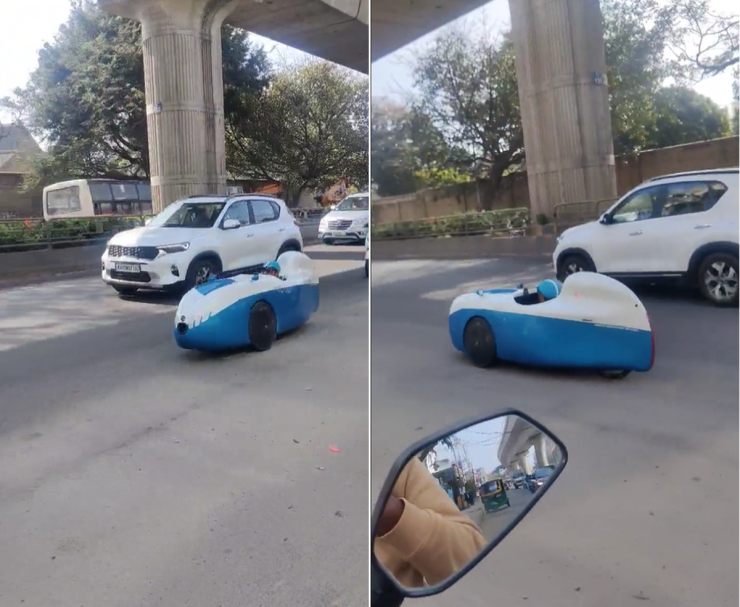 These are not mass-produced cycles due to their steep pricing. Customers often place order and the cycle is built to meet their requirements. The body shell can be customised as per customer request and this will help them differentiate it from others on the road. These bikes are built on the basis of rider's weight, height for a perfect fit. The bike weighs around 25 kg and the whole setup including the shell is around 90 kg. Due to its aerodynamic design, the bicycle can go as fast as 55-65 kmph. The twitter user even asked how the rider is handling the potholes on the road. To this he reacted by saying that, he is now used to it as he has been riding the bike for some time in the city.
The Velomobile actually belongs to Phanesh Nagaraja from Bengaluru. The bicycle has been in the city for almost an year but, it looks like people have only started noticing it now. It is also possible that the owner takes the bike out occasionally. It is definitely a very different-looking bike and we won't be surprised if many people notice this on the road.
Also read: BSA Motorcycles unveil Gold Star 650: Will Rival Royal Enfield 650 Twins