When you buy a new car, it comes with just the basic set of tools and spares that are mandated by law. But are these really enough? No. You will need to stock up on a few essentials to make sure you and your car are safe in almost every kind of situation.
Almost all these tools are readily available in the aftermarket and should be a part of your car's emergency tool set. Yes, we do advocate driving light and removing unnecessary equipment from your car, but there are some things that need to stay in the car at all times.
What you do get in a new car are a spare wheel (mostly, although some car makers now don't give you one), a jack, jack handle, screwdriver, spare headlamp bulbs, spare fuses (in the fuse box) and a first-aid kit. Here's what CarToq thinks are the list of some more must-haves in your car.
Life Hammer
A life-hammer is a literal life-saver. Remember the spate of recent news reports about cars catching fire and charring their drivers to death because the central-locking refuses to open? A life-hammer can help in such situations. It is available as a dual-use tool – which incorporates a seat-belt cutter and a hammer at the other end. This hammer is used to smash out a window in an emergency to get out of the car. The seat belt cutter also helps in freeing trapped passengers quickly in an accident.
A life-hammer should be installed in the cabin (it comes with a bracket to install), preferably within easy reach of all. One of the best places to install it is on the B-pillar next to the driver or on the roof in the center of the car, so that anyone in the car can access it easily.
The life-hammer can also be used to rescue another motorist in distress in an accident.
Fire extinguisher
A fire-extinguisher may sound like a ridiculous piece of equipment to carry, but it is essential. Like the life-hammer, a fire-extinguisher too must be within easy reach. You can buy fire-extinguishers off-the-shelf in the supermarket these days. Make sure you keep renewing the fire extinguisher when it reaches its expiry date.
The fire-extinguisher can be fitted to one of the doors or the passenger foot well. Some larger vehicles may also have space to fit it on a body pillar. Just make sure the fitment will not hamper the deployment of airbags or affect the driver's visibility. Also avoid keeping it in direct sunlight as it will reduce its effectiveness.
Air compressor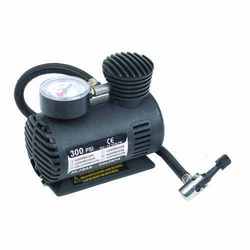 Most cars come with tubeless tyres these days. And the biggest advantage of tubeless tyres is that they don't lose air rapidly like a tube tyre does. This reduces the risk of blow outs. If you have a puncture with a tubeless tyre (for example, if a nail has penetrated the tyre), very often you can leave the object in place and just fill air in the tyre and drive to the nearest tyre-repair center to get it fixed.
A portable 12-volt air compressor (costs about Rs. 1,100 onward) that runs off a 12-volt power socket in the car or even a good old-fashioned foot pump is an essential piece of equipment to carry on board.
Puncture repair kit
Puncture kit pic courtesy Mohindra
A puncture-repair kit for a tubeless tyre is actually an option for those who travel long distances and into rural areas, where one cannot readily find a place to fix a puncture on a tubeless tyre. A puncture repair kit is readily available in most aftermarket accessory shops and even in some hardware stores. It consists of some wheel plugs, solution, and two tools to fix a puncture. While you may not necessarily be able to fix a puncture yourself, carrying this kit as a spare in the car can always come handy in rural areas where it may be difficult to find plugs for tubeless tyres.
To be fair, some high-end car makers who don't give you a spare wheel in the car often provide a puncture repair kit with the tool set!
Jumper cable
A jumper cable to jump-start your car is another useful tool to keep in the car at all times. These jumper cables are available at auto-electrical shops or auto-accessory shops. They are about 5 feet long and come in a pair. You can use jumper cables to jump-start your own car if the battery dies with the help of a passing motorist, or help a fellow motorist in distress and earn some good karma.
Tow rope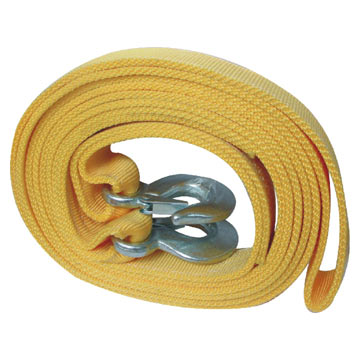 Keeping a strong tow rope in the car that can fish your car out of a sticky situation is a good idea. Many tow ropes are available in the aftermarket with clip-on or D-shackles on either end. If your car does breakdown you can always get it towed to the side of the road or out of harm's way. Or you could use the tow rope to help another motorist in distress. Or it could be as simple as getting it out of a snow bank or sandy area in case you get stuck. Of course, you'll have to flag down a passing car to help.
Duct tape
It is said, that if you have a roll of duct tape and a can of lubricant, you can solve half the world's problems. But seriously, heavy-duty duct tape can fix a number of problems in an emergency, especially in slightly older cars. Busted hoses can be bandaged with duct tape. A broken bumper from a fender bender can be held together with duct tape.
Torch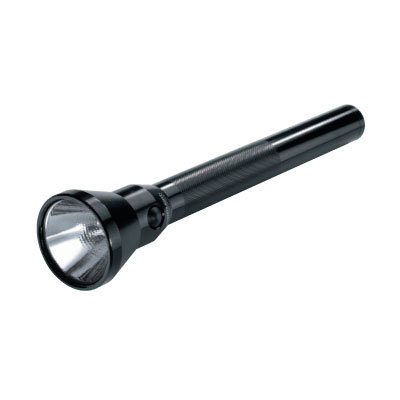 A torch is a no-brainer really. When you are out of night, it's a good idea to keep one handy always. Adding a matchbox or a lighter to your car's essential kit is also a good. Just make sure the torch has a fresh set of batteries always or is of a rechargeable variety that can be charged using a solar charger or the car's 12-volt power socket.
This is a list of some essentials you need to carry in your car. Another good idea is to keep a laminated card with a list of emergency numbers and blood groups of people who most often travel in the car handy. We also recommend you keep at least 2 litres of drinking water with you at all times. .
Tell us if you think there are some other essential tools that your car maker didn't give you, which you need in your car at all times.