Driving or riding on Indian roads has always been a challenge, with several reported instances in the past proving the same. While the quality of roads has improved over the years, the way people drive in India is something that needs attention. Reckless driving has led to accidents on the road, resulting in serious injuries for some and miraculous escapes for others. In this particular video, two students riding a scooter miraculously escape being crushed between a truck and a bus.
The video, uploaded by Manorama News on their YouTube channel, captures an accident that occurred in Kerala's Kozhikode district. The footage was recorded by a surveillance camera installed outside the bus. From the video, it is evident that the bus was being driven through a narrow road, with the scooter following closely behind. The students decide to overtake the bus but fail to notice oncoming vehicles from the opposite direction.
Also read: Mahindra XUV900 Coupe: New Details Surface
As they attempt to overtake, they suddenly spot a truck approaching from the opposite side. With the bus driver having no choice but to continue driving, the truck driver is also taken by surprise at the presence of the scooter in front of them. If you listen closely, you can hear the students on the scooter screaming just before the accident occurs.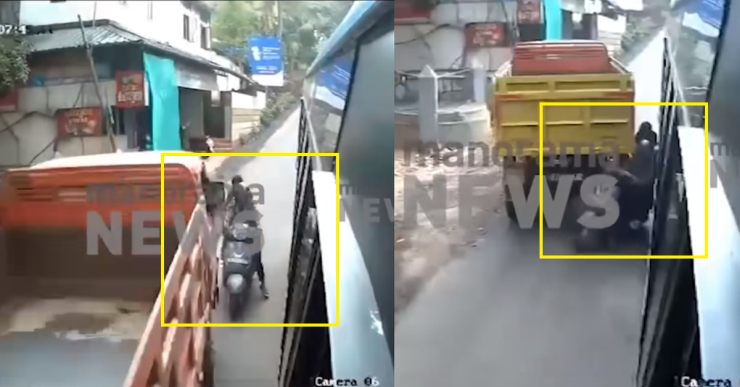 The scooter becomes trapped between the bus and the truck. The rider tries to steer the scooter away from the truck, but the rear portion of the truck collides with the scooter, causing them to crash into the back of the bus. Losing control, the rider falls onto the road. Surprisingly, there are no other vehicles behind them. However, the riders quickly get up, indicating that they are unharmed. One noticeable detail in the video is that the rider's helmet simply rolls off her head upon impact. This may be because the helmet strap was not properly fastened. This is a significant issue as this accident could have easily resulted in major injuries for both the rider and the pillion. Furthermore, the pillion is not wearing a helmet either.
From the audio available in the CCTV footage, it is evident that the girl riding the scooter can be heard shouting at the bus driver, claiming she had been asking him to give way for some time. We often witness both private and government bus drivers driving recklessly on the road. However, in this case, it does not appear that the bus driver was at fault. The scooter rider was traveling at a slow speed, seemingly lacking a clear view of the road ahead. It is possible that the accident occurred on a curve, obstructing their view of the oncoming truck. When overtaking, it is crucial to ensure a clear view of the road ahead and to avoid overtaking on curves to prevent accidents. Additionally, on narrow roads like this one, it is advisable to maintain a safe distance from heavy vehicles such as buses and trucks.
Also read: 10 DC Design cars & how they look in the REAL world: Maruti Swift to Mahindra XUV500