Taking a look at the most stunning automobiles at Auto Expo
Auto shows the world over are all about glamour. And the recently concluded Auto Expo 2012 in Delhi too had its fair share of stunning looking cars – some just concepts, some production models that may not actually make it to the Indian market. But they did provide plenty of eye candy…
Almost all the big name brands were there at the Expo showcasing some of their most attractive cars. Here are a few that caught our eyes.
Mercedes SLS AMG
Starting with the Mercedes SLS AMG. This droolworthy sports car is powered by a 6.3 litre V8 engine and can do 0-100 kilometers per hour in just 3.8 seconds and has a top speed of nearly 320 kilometers per hour. If nothing else, just stepping out of the car with its gullwing doors is sure to turn heads.
Chevrolet Corvette Stingray Concept
If speed thrills you, there was also the curvaceous Chevrolet Corvette Sting Ray concept on display. This car will begin production this year in the American market. It's likely to be powered by a V6, 3.6 litre engine that puts out 400 bhp of power. This is one car that looks fast just standing still.
Camaro Convertible
For those of you who are fans of good old American muscle cars, check out this stunning Camaro convertible. The Camaro is powered by a V8 6.2 litre engine that puts out 426 bhp of power. It does look stunning in Orange…and costs small change compared with the Sting Ray.
Hyundai Veloster
And finally, we have a 'poor' man's sports car. Hyundai showcased the Veloster, a four-seater sports coupe, powered by a 1.6 litre engine that puts out a modest 138 bhp. This car is already on sale in the U.S… and Hyundai was just gauging Indian reactions to the car.
LandRover Defender Concept
And for those of you who like butch SUVs, check out the Land Rover Defender 100 Concepts – in hardtop and open top variants. This will likely hit production in 2015. Time for me to start saving up!
Jaguar
Also sharing space with the Land Rover were the stunning looking Jaguar models… the XJ, XF and XK were on display. These cars are on sale in India at present with prices ranging from 48 lakhs to 1 crore rupees.
Mini Cooper
Of course, one of the cars that drew the most crowds at the Expo was the iconic Mini Cooper. The Mini is now available in India in four variants priced between 24.9 lakhs and 32 lakh rupees.
Renault Dezir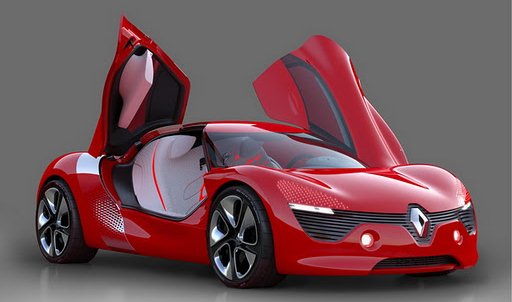 Electric cars too can be stunning, as Renault proved at Auto Expo 2012. The Renault Dezir concept electric car drew plenty of crowds. This car can do 0-100 kilometers an hour in 5 seconds with a top speed of 180 kilometers an hour. Not bad for an electric car, as long as you don't have to drive too far!
So while there were attractive cars that were meant for regular buyers, some of the concepts showed what carmakers are capable of offering in the near future, and we liked what we saw.