Police across the country have stepped up their drive to prosecute cars with sun film on their windows.
According to the recent Supreme Court ruling, all kinds of film on car windows of any transparency are banned and police can penalize owners and even impound the car. Read more about the sun control film ban in India
So how has the sun-film removal drive been progressing across the country? Have you removed your sun film yet? CarToq takes a status check on the sun-film removal drive across some cities in India.
Delhi-NCR
In New Delhi, the drive to remove sun film and prosecute cars started from May 4. Cars with sun film are being fined Rs. 500 and the films removed on the spot by traffic police. In the past 10 days, over 25,000 challans for sun-film have been issued in Delhi alone, raking in Rs. 1.25 crore in fines alone just in Delhi.
In neighboring areas of the NCR like Gurgaon the drive started from May 4 and fines are much higher. Gurgaon police charge fines of Rs. 1,000 for cars with sun-film.  Barricades and teams are being set up at many major junctions and cars with dark films are being targeted first.
In Noida too, police have set up teams at major road junctions and have been flagging down motorists with dark films. Fines are up to Rs. 500 and film is being removed on the spot. However, many cars with dark film can still be seen driving around even 10 days after the ban came into effect.
Bangalore
The Bangalore police have been more considerate and have given car owners time till May 19 to get sun-film removed from their cars. The traffic police even organized special camps at various localities in Bangalore to remove sun-film, and many cars could be seen lining up to get the film removed. Also read: How to remove sun film safely on your own
Post May 19, Bangalore traffic police will start prosecuting cars with any kind of sun film on their windows. Unfortunately, with this sun-film removal drive in Bangalore, there are increasing environmental concerns, as heaps of sun film are being strewn on the roads and can clog drains.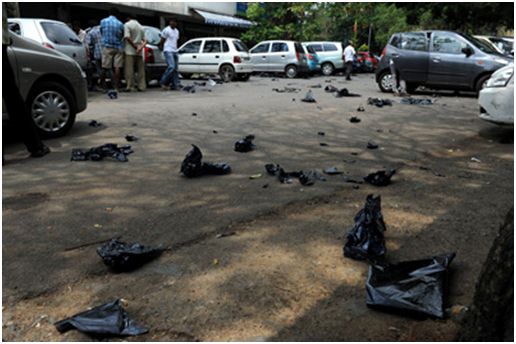 Ahmedabad
In Ahmedabad the drive to remove sun film started in earnest from May 5 onwards. Cars with sun film were being fined Rs. 100 and were asked to get the sun film removed. If they did not comply the drivers' license could be confiscated. The Ahmedabad traffic police have started targeting cars with darker windows first and the drive will continue until all cars have film removed.
Hyderabad
The Hyderabad police have not issued any specific instructions to start prosecuting cars with dark film. Although the law provides for it now after the Supreme Court ruling, there has been no special drive to prosecute cars with dark sun film. However, this does not mean the police will not implement the ban. Cars with film can be prosecuted as and when the police deem it fit as sun film has now been made illegal.
Chennai
Chennai car owners were among the first to curse the ban on sun films, saying it was unkind to have a blanket ban on sun film just because of crimes committed in cars with black films especially in Delhi. However, the Chennai police have not started an intensive drive to remove sun film from cars in Chennai, although there are reports that they may start prosecuting cars after May 19. Like the Hyderabad police, Chennai too is using a wait-and-watch approach to the ban.
Kolkata
In Kolkata, like Chennai and Hyderabad, there has been no special drive to prosecute vehicles with sun film. The police are again adopting a wait-and-watch approach. News reports in the papers about the sun-film ban have not really resulted in any strong action yet.
Thiruvananthapuram
In Trivandrum, police are getting ready to take action against cars with dark sun film, but have not yet started any intensive prosecution drive. However reports say that police vehicles in Thiruvananthapuram were seen removing film from their own windows, which is an indication that the police may soon start prosecuting other motorists as well.
How has the sun-film ban affected you? Do you know of specific drives to remove sun-film in your city? Please share it with the CarToq community.