Who would have thought that a day would come, when a relatively new carmaker like Nissan in India would actually overtake an established carmaker like Hyundai? Well, that's actually happened when you look at the sales figures in March.
March is a month that is usually good for carmakers, as many companies buy cars to avail depreciation benefits before the financial year ends. This year, individuals too lapped up cars, with the price hike post budget looming large.
Sunny overtakes Verna
In March, the Nissan Sunny sold 33% more cars than it did in February, selling 4,151 cars to just 4,132 cars of the Hyundai Verna (a drop of about 8%). Nissan has been reaping the fruits of its diesel Sunny that was launched late December, when sales jumped from 500 odd cars to over 3,000 cars the following month. You may also like to see our Nissan Sunny diesel video review!
And as its dealerships increase the Sunny has been steadily seeing increased bookings over the past three months, with nearly 90% now being for the diesel variant. Now some would say it's unfair to pit the Verna and Sunny together, as they are different on power specs, but when you look at features and pricing and the space that the Sunny offers, it does seem like a great value for money car.
City back in the driver's seat
There are more interesting tales in the March sales figures. The Honda City, after getting its production act together, sold a whopping 6,000 plus cars in February (due to a back log) and has now settled at 3,920 cars, a little ahead of the Volkswagen Vento and slightly behind the Hyundai Verna. It's commendable that the City continues to fight hard against the competition without a diesel engine in its arsenal. The Vento's cousin, the Skoda Rapid, too had a pretty decent run in March with a 30% increase in sales. See our Hyundai Fluidic Verna video review here.
The biggest sedan sellers
Maruti's new Dzire has taken sales into completely uncharted territory for the car. The Dzire sells more cars than most hatchbacks in India. It is India's number three selling car at 16,451 units sold in March, just below two other Maruti favorites, the Swift and Alto. Among sedans, the Dzire continues to be the undisputed leader in sales, with March being a record number for the Dzire. The second largest sedan seller is the Indigo/Manza combine from Tata that sells just half of what the Dzire is doing at 8,200 odd units, followed by the Toyota Etios at just over 5,100 units.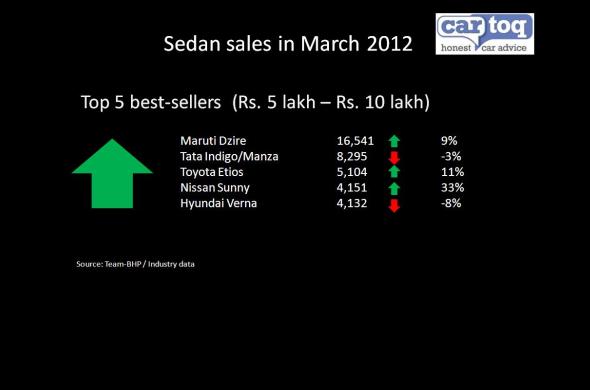 The one's that missed the party
However, not all sedans were out partying. The Maruti SX4 seems to be losing ground despite having a mix of both petrol and diesel cars. It appears that the new Dzire seems to have eaten away into the bottom end of the SX4's pie, drawing buyers away. SX4 sales were down from over 2,000 units in February to just 1,520 in March. Ford too seems to have missed the party with its Fiesta. Despite slashing prices and realigning its variants, the Fiesta hasn't seen too many takers, just under 400 buyers picked up a Fiesta.
It will be interesting to see sedan sales in April, post budget, and after the slew of price hikes. There are not many discount deals going either.