Driving a sport-utility vehicle needs a slightly different style of driving compared to driving a sedan. SUVs are inherently more unstable compared to sedans because of their tall centre of gravity, which makes them prone to body roll and if pushed to a limit, flipping over.
However, not all SUVs are poor handlers. These days many SUVs have been built with safety features and good suspensions that dramatically improve handling characteristics. These SUVs are a lot more forgiving of your driving style and use plenty of techno-wizardry to make sure the vehicle stays stable.
Cartoq takes a look at which SUVs in India are the most stable at high speed as well as those that should not be driven fast. Let's start with some of the safest SUVs around below Rs. 25 lakh, which can be driven at high speeds and have good high-speed road-holding manners.
Safe at high-speed SUVs
Skoda Yeti
The Skoda Yeti probably tops the list as one of the safest SUVs that can be driven at high speed. It comes with traction control, six airbags and ABS in the top-end 4×4 Elegance variant. The Yeti has a 140 bhp 2-litre diesel engine with a six-speed manual transmission. It is pretty light and hence gets up to speed quite quickly. It is also low-slung with only 180 mm of ground clearance and at just 1691 mm in height, the Yeti is short and wide, giving it good road holding and stability. Also see: Skoda Yeti road test
Renault Koleos
The Renault Koleos is another SUV in the top-five list of safest SUVs to be driven at high speed that has excellent control and road holding. It has good ride quality and precise handling. The Koleos also has a low centre of gravity, although it has more ground clearance at 200 mm, making it slightly more versatile. It also comes with six airbags, ABS and traction control, making it among the safest SUVs to drive at high speed. Also read: Renault  Koleos road test
Mitsubishi Outlander
The Mitsubishi Outlander is a very understated SUV. It has a very sporty driving characteristic and is capable of high-speed motoring without making the ride scary. It's handling is precise, the engine is refined and it can be quite a mile muncher, holding on to three-digit speeds quite easily. The Outlander also comes ABS and only two airbags. It is powered by a 2.4 litre petrol engine that puts out 168 bhp of power and 226 Nm of torque with a six-speed automatic transmission.
Also see: 6 most comfortable SUVs
Chevrolet Captiva
The Chevrolet Captiva takes its time getting to speed, but once there it is a good high-speed cruiser. It is stable and has well-contained body roll. The wide track width and the flared design make it wider than it is taller, which is good for road-holding and handling. The new Captiva comes with a 2.2 litre diesel engine that puts out 185 bhp of power. It also has safety features such as ESP, ABS and airbags.
Also read: Performance SUVs between Rs. 15-25 lakhs
Mahindra XUV500
Among the more reasonably priced SUVs, the Mahindra XUV500 is one of the safer SUVs that can be driven at high speed without the ride getting scary. It has decently controlled body-roll and features roll-over mitigation, traction control, ABS and six airbags in its top-end W8 variant. This vehicle cuts power to the driven wheels if its senses a skid and restores it as soon as traction is regained. It is also shorter than it is wide, which gives it a good centre of gravity and is quite stable through fast corners. Also read: 4-most value-for-money SUVs in India
The not-so-safe-at-speed SUVs
Mahindra Scorpio
If you own a Mahindra Scorpio, be very attentive when you drive at high speed. The Scorpio has quite poor handling characteristics at high speed and any quick change in direction can have dramatic results. The suspension tends to get bouncy and get into a "floating" effect beyond speeds of 120 kmph. Stay under this (which is required by law any way) and the vehicle should do just fine. The vehicle is well-controlled at a speed of about 100 kmph. Don't attempt taking turns at over 80 kmph as well, as this can induce tremendous body roll to the point of a rollover. The Scorpio top-end VLX comes with ABS and two airbags. Also see: How to pick a good used SUV
Tata Safari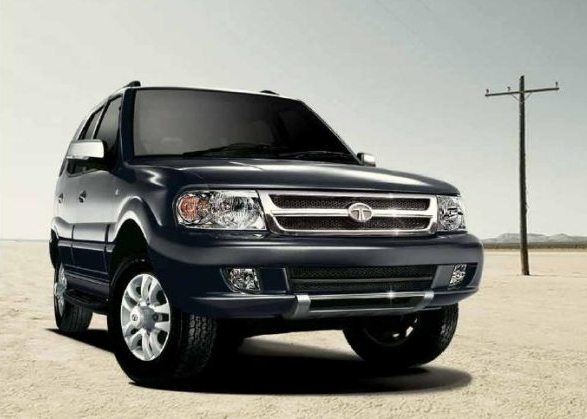 The Tata Safari is another SUV that doesn't like being driven at high speed. In a straight line, it holds its poise much better than the Scorpio, but if you change lanes or direction fast, it can get into a pendulum effect quite quickly. With a Safari, it's best to slow down for corners and not take it flat out, as the vehicle is quite top heavy and tends to induce plenty of body roll. Beyond a point, a driver can lose control of the vehicle. The Safari VX comes with ABS and two airbags as well.
Other popular SUVs such as the Toyota Fortuner and Ford Endeavour have a middle-ground when it comes to handling and high-speed manners. The Endeavour for instance has scary brakes that take some time getting used to. The Fortuner has plenty of body roll as well, but the 2012 Fortuner has traction control added to it. The Mahindra Thar and Maruti Gypsy are uncomfortable at high speed. Also read: Six most-comfortable SUVs in India
While even the not-so-safe at speed SUVs can be driven at high speed, it requires the driver to be much more attentive, as any quick lane changes or sudden braking can lead to trouble. Share any experience you have of driving at high-speed and how your vehicle behaves with the CarToq community.