In less than two weeks after the launch of Safari Storme, Tata Motors has made another strong pitch at fast-growing SUV/MUV market by introducing Aria Pure LX variant at Rs. 9.95 lakh. This is a good Rs. 1.65 lakh cheaper than Aria Pure 4X2 variant priced at Rs. 11.6 lakh.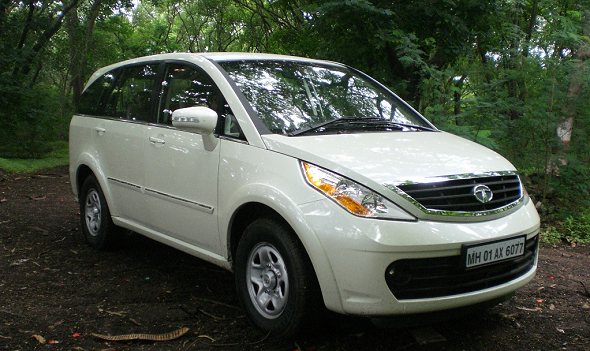 The Aria Pure LX retains 2.2 Dicor engine with 139 bhp of power and sits on top of the same—rather decent hydroform chassis—as the other models. Which means ride and handling should remain the same.
Aria Pure LX is essentially the regular Aria minus a few features: ABS being an important omission.  The other thing missing is the audio system but that's something that can easily be added at a cost of Rs.6,000. Also see: Tata Aria video review
Amongst the features it retains, the keyless entry, dual AC with pillar mounted louvres and the glove box chiller, are useful ones.
Tata Aria Pure LX wins some, losses some vis-a-vis competition
All this has meant that the price is more or less in line with its chief competitor Toyota Innova which costs Rs. 9.78 lakh. Both have very few features. However, the Mahindra Scorpio priced at Rs. 9.55 lakh comes with ABS and EBD.
So where does it leave Tata Aria Pure LX?
It scores over Innova on power and has a little more space. Besides, Aria's low floor means better seating position. But Innova rides better and has excellent build quality. Also read: Tata Aria road test
Scorpio has more features—essentially ABS and EBD—but has less power, doesn't ride or handle as well as Aria. But it has a SUV tag attached to it.
It's unlikely that Aria Pure LX will help Tata Motors steal customers from Toyota Innova. But for those who aren't bothered about the SUV, this could be good option the Scorpio.