Tata Motors has introduced the Aria Pure LX variant at Rs. 9.95 lakh which is Rs. 1.65 lakh cheaper than Aria Pure 4X2 variant priced at Rs. 11.60 lakh. Here we compare the Aria Pure LX similarly priced variants of the Mahindra Scorpio, take a look.
The Mahindra Scorpio LX 4WD priced at Rs. 9.64 lakh is quite close to the Aria Pure LX variant in terms of price but it comes equipped with 4×4 as well. Let's see if the Scorpio has an edge in other departments as well.
Looks
Scorpio on top with its butch SUV styling
The Mahindra Scorpio may be old school and its design is dated, yet it manages to sell in good numbers. The Aria with its MPV styling has failed to catch the fancy of buyers in India.
In the looks department the Aria is more sophisticated and up-market but the Scorpio's rugged appearance makes it more attractive. If it is class and practicality that you are looking for though, then the Aria's design will be more appealing. Also read: Tata Aria Pure LX at Rs. 9.95 lakh!
Engine and performance
Aria has  grunt; Scorpio better off-road
Both the Aria and the Scorpio are powered by 2,179 cc motors mated to 5-speed manual transmissions. The Aria's 4-cylinder motor makes 138 bhp of power at 4,000 rpm and 320 Nm of torque at 1,750-2,700 rpm. The Aria is a rear wheel drive vehicle while the Scorpio LX is a 4WD. The Scorpio's 4-cylinder motor makes 120 bhp of power at 4,000 rpm which is 18 bhp less than the Aria. Even in terms of torque the Scorpio makes 290 Nm at 1,800-2,800 rpm which is 30 Nm less than the Aria.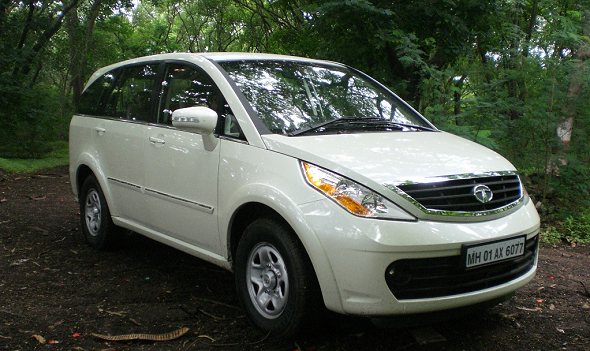 So as far as specs are concerned the Aria is the winner. Even when we consider the handling and driving characteristics the Aria is better. The Scorpio has an edge off-road thanks to its 4×4 system which allows it to take on difficult terrain with ease.  Also read: Tata Aria road test
Features and interiors
Close call but Scorpio takes the lead
The Aria Pure LX does not have ABS or an audio system but it retains features like keyless entry, dual AC with pillar mounted louvers and a glove box chiller. It also comes with PVC Seat upholstery as against the Scorpio's fabric seats. The Scorpio comes with AC, 4 power windows, central locking, power steering, tilt steering, tachometer, 2 ORVMs and dual trip meter. In terms of features it is the Scorpio which offers slightly more.
Price and VFM
Scorpio LX cheaper by Rs.31,000
The Scorpio LX is cheaper than the Aria Pure LX variant by Rs.31,000. This not only makes the Scorpio more affordable but also makes it more value for money. Even when a buyer pays Rs.31,000 lesser than he would for the Aria Pure LX variant, the Scorpio offers 4×4. This in itself is a very expensive feature and makes the Scorpio more attractive.
Verdict
If you are look for a SUV which can take on rough roads then the Scorpio LX 4WD should be your choice. If you are not particular about off-road prowess and lean towards comfort, space and ride quality, then the Aria is worth the extra money you will pay for it. Also see:Tata Aria video review