Tata Motors has announced that the Nano car will now come with a 4-year / 60, 000 km (whichever is earlier) manufacturer's warranty, at no extra cost. The warranty covers both new Nanos and is also being extended to all current owners of Nano.
Tata Motors has also announced that all new buyers of Nano can have the option to avail a comprehensive maintenance contract at just Rs. 99 per month. This should ensure peace of mind to Nano owners/prospective buyers worried over the car's quality. So far, there are 71,000 Nanos on road in India.
According to customer satisfaction studies, Tata Motors report that 80% of the current Nano owners are satisfied with the car mainly due to its small yet spacious interior, performance, maneuverability, durability, mileage and safety.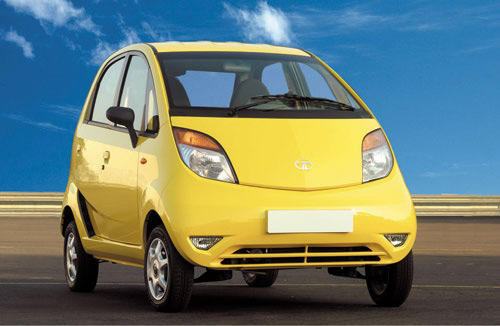 Some Tata Nanos have been used for country-wide trips or for expeditions to high altitudes destinations such as Khardungla, the world's highest motorable road. Tata Motors has assured the owners and prospective buyers of enhanced safety features.
Addressing the financing issues, customers can avail loans up to 90% on easy rates and a host of financiers have come forward to offer extremely attractive packages.
As of today, Tata Nano is available off-the-shelf in 12 states. Tata Motors reports that retail sales have substantially increased in the first five states where open sales have begun. Special Nano Access Points are also to be opened and customers can take the car for a test-drive.
Tata Motors is aiming to cover all the locations with the Nano Access Points by March 2011 and make the Nano available for everyone.
Tata Motors launched the '1 lakh car' or the 'People's car' Nano on March 23, 2009. More than 2 lakh people had expressed interest in buying the Nano but Tata Motors chose only 1.5 lakh of those customers and promised to deliver the car in two phases. So far, more than 70,000 Nano cars are running on Indian roads.
In September, Tata sold 5,520 units of the Nano, up 61% over the same period last year and Tata Nano failed to attract customers during the festival season as the sales clocked just 3065 numbers despite the company offering the car off-the-shelf in more than 5 states in the country. In November, the company sold a mere 509 Nanos.
Tata Motors is making eleventh-hour efforts to improve the sales of Nano and refurbish the brand after the 6 fire incidents and long waiting period had bred in some skepticism about the car.
Will this be enough to make Nano big again? Watch this space.