Dreaming of owning a powerful Tata Indica Vista diesel? Guess Tata Motors has plans to grant your wish.
The Indica Vista hatchback car is likely to get the new 90 HP engine  tat does duty in the Fiat Punto 90 HP. According to several websites, Tata Motors plans to launch the Indica Vista Quadrajet 90 HP this month – and the rumored launch date isOctober 13th.
Tata Indica Vista 90 HP
The new Indica Vista 90 HP will feature the 1.3 L quadrajet engine that produces 90 hp (93 PS) of peak power and 209 Nm of peak torque. Owing to the lighter chassis of Indica Vista (50 kg less) when compared to Fiat Punto, the power to weight ratio of the 0 HP Indica Vista would be slightly higher. This means that acceleration would be slightly better for the Vista when compared to Punto 90 HP. The mileage of the new engine is is believed to be better than the existing model. Tata may also tweak the suspension and chassis setup so as to match the added power and torque.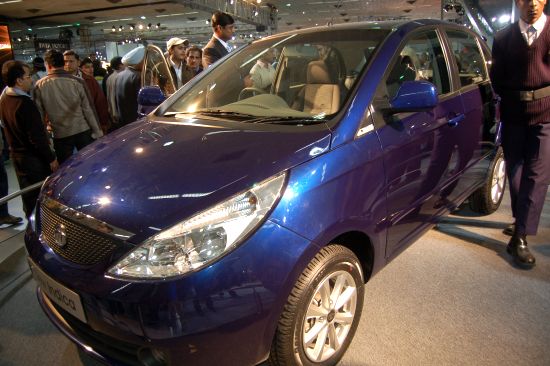 It is rumored that he exterior of the Indica Vista 90 HP will get cosmetic upgrades. Same oes for interior and upholstery . Tata Motors is expected to price the Indica Vista 1.3 L 90 HP Rs.30,000 higher than the regular Vista. So far, there is no confirmation from Tata Motors about the launch of the Vista 90 HP, however. So we will have to wait for the launch for the actual price.
Considering that the Indica and the Punto shares powerplants, thereis also the possibility that we could see the Indigo Manza getting the Linea's T-Jet engine.
The big launch, however, for Tata Motors this month will be the Tata Aria MPV / crossover. The festival season is coming soon, and hence all the car makers are likely to new launches and variants to attract buyers. We can expect Skoda Yeti, Fiat Linea T-Jet and Hyundai Santa Fe's launches in the coming weeks. Stay tuned, we will keep you updated with all the latest news and rumors!
Sources: 1, 2