Tata Motors has just revealed discounts on its cars. The petrol models of Manza get the best deals with discounts ranging between Rs. 33,000 and Rs. 45,000.  The offers are valid till Oct. 31.
Otherwise, the discounts, which run through this month, are nominal.
Discounts of Rs. 45,000 on Tata Manza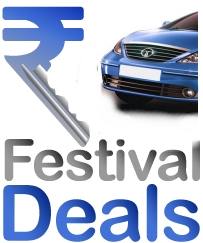 The base Manza Aqua gets a hefty discount of Rs. 45,000 bringing down its price from Rs. 5.39 lakh to Rs. 4.94 lakh. This puts it on par with Maruti Swift Dzire priced at Rs. 4.94 lakh. Both are very lightly spec-ed but Manza enjoys a slight advantage here too with two power windows that Dzire shuns.  Also read: Tata Vista sales grow in September
The mid-range Aura gets Rs. 35,000 off so it can now be had for Rs. 5.39 lakh. The similarly spec-ed Dzire costs Rs. 4.57 lakh.
The fully-loaded top-end petrol version Elan Safire gets a discount of Rs. 33,000 bringing down its price from Rs. 6.83 lakh to Rs. 6.50 lakh. This brings it closer to segment leader Maruti Suzuki's Swift Dzire (Zxi) priced at Rs. 6.39 lakh. Both are similarly loaded. But Manza is a bigger, more comfortable car.
The other car that equals Manza on comfort, Toyota Etios's top end model looses out badly as it's a good Rs. 47,000 dearer at Rs. 6.97 lakh.
And finally, the reduction gives Manza a decent price edge over the new entrant and probably the most spacious car in the segment, the Nissan Sunny XL that costs Rs. 6.88 lakh.
In short, the top-end Manza is a pretty good buy at the moment. Other versions too offer decent value, particularly if you are in the market for a bigger-than-Swift-Dzire car.
Discounts on other Tata cars
There is not much here. Indica Vista—already great VFM package—gets Rs. 10,000 off while Indica eV2 gets Rs. 12,000 off.
But the real surprise is the lack of any aggressive deals on Aria. Considering that Aria sales were a meager 560 units in September, 2011 (while XUV had 6,000 bookings within 4 days) and the price of base Aria Pure 4X2 is good Rs. 80,000 more than base XUV, we had expected Tata to respond to Mahindra XUV 500's cut-throat pricing. All we have got instead is free service for 40,000 km or three years, whichever is earlier.
Conclusion
Tata Manza has got a real push in an increasingly competitive segment.
Indica Vista and eV2, which have been selling well and represent great value, get some festive deals.
Why Tata chose not to pitch Aria aggressively against XUV 500 is not clear to us—you have any thoughts?