Tata Motors has launched a refreshed Manza sedan with two engine choices – 89 Bhp 1.4 litre Safire petrol and an 89 Bhp 1.3 litre Quadrajet diesel engine. The Manza's prices start from Rs. 5.39 lakh for the petrol and Rs. 5.91 lakh for the diesel, ex-showroom Delhi. The cars are available across all Tata dealerships.
The car is now simply called the Manza. While there are no structural differences to the car, it has been given subtle cosmetic changes to freshen its appeal, and to make it ready to take on the onslaught of the Toyota Etios and Maruti Dzire. It continues to be a value for money package and will appeal to those who are looking for a comfortable sedan at an affordable price. It competes with cars like the Maruti Suzuki Swift Dzire and Toyota Etios.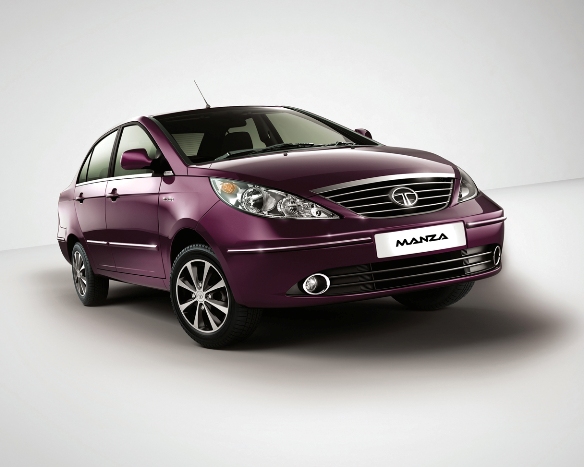 Now let's take a closer look at the Manza and compare it to its key rivals in terms of appearance, space, comfort, power, mileage, price and features.
Look, space and comfort
There are no major changes in the Manza in terms of appearance and it isn't easy to differentiate between the two at one glance. What is unique is the new color (Wine Red) that Tata has introduced. It also gets new dual tone alloy wheels and fog lamps. In terms of looks the Manza does stand out. Some may find it better looking than the competition but since looks are more about perspective we think it's a tie between the three (Etios, Dzire and Manza) on this front.
While there might be a tie in looks Manza easily beats Dzire in space and comfort. It even scores over Etios. It's a big, heavy car that rides quite well.
Performance and mileage
The petrol powered Manza sports a 1,368 cc, 4 cylinder engine that churns out 89 bhp of power while the diesel variants sport a 1,248 cc, engine that too manages 89 bhp of power. This Manza is more powerful than the Swift Dzire (Both petrol and diesel) while it stands shoulder to shoulder with the petrol Etios. The diesel powered Etios however is underpowered compared to the Manza and produces only 68 bhp of maximum power.
Price and features
The Manza comes at a price of Rs. Rs. 5.39 lakh for the base petrol variant and goes up to Rs. 7.68 lakh for the top end diesel Manza Elan variant. It is more expensive compared to the base version of the  Swift Dzire which comes at Rs. 4.94 lakh. The top end diesel variant of the Swift too is cheaper at Rs. 7.20 lakh. The Etios too beats the Manza in terms of price but the Manza does offer much more in terms of features than either.
By adding a host of features to the Manza that are not available with its competitors, Tata is hoping it can lure customers with feature-packed cars at an affordable price.
Tata has tried to load the Manza with features to make it more appealing. The driver's seat in the top end variants, for instance, has lumbar support and height adjustment. The integrated stereo features a Bluetooth system that can also make and answer phone calls, besides having steering mounted audio controls, Aux-in, and USB support.
Other features on the Tata Manza include ABS, airbags, automatic door locking, and safety beams all around. The Manza Elan, the top-end variant of the Manza series, features dual-tone alloy wheels, burgundy and beige interiors, fog lamps, and follow-me home headlamps that light up the moment you lock the car. It also has features like time-delayed power windows that operate even after the key has been removed from the ignition.
Yet, if one were to compare Manza vs. Dzire on a feature/price dimension, Dzire consistently beats Manza. For instance, the base Manza petrol which costs Rs. 5.39 lakh is a good Rs. 43,000 dearer than base Dzire but only has two power windows to show for that extra money.
Here's a price table to help you compare prices of the Manza across variants:
[table id=291 /]
Conclusion
Overall, Manza's proposition is space rather than pure value. And in that, it does score over segment leader Dzire. Question is: how many would pay a premium for a Tata car.
Tech specs in a table for all variant
Tata benefits from access to technology from Fiat and has capitalized on that by squeezing in the Safire petrol and Quadrajet diesel engines from Fiat under the hood of the Manza. The company is also planning to launch a shorter version of the Manza, keeping the car's length under 4 metres to benefit from excise sops. It was previously speculated that the Elan would be the shorter Manza.
[table id=292 /]