Business Standard reports that Tata Motors has launched an exchange offer where the company has started offering its cars in exchange for any two-wheeler. Starting from Nov. 3, Tata Motors is offering Nano off-the-shelf, through open sales without bookings.
Vishal Vashishta, a company manager said the Nano can be bought through and exchange offer with attractive EMIs. For the exchange offer, the company has tied up with the State Bank of India (SBI) to provide hassle-free loans offering EMIs as low as Rs. 1,960.
The rising input costs such as steel and rubber have forced all car makers to revise car prices and Tata Motors is no exception. Tata has increased the price of Nano by Rs. 9,000 from this month onwards. A company dealer, Rakesh Oberai said the new offer will likely boost sales of the new car.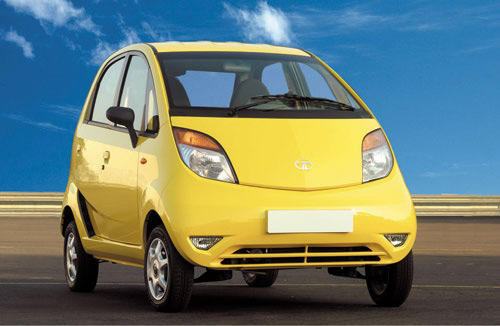 Tata Motors is opening Nano access points where prospective buyers can test drive and get a hands-on experience of this ultra low cost car. Tata Motors is offering easy loans via 25 banks across the country. Sources say that Tata Motors has commenced campaigns for Nano focusing on tier II and tier III cities as well as rural areas. Related: Tata Nano launch story and first photos
Tata Nano specifications
Engine
Rear-wheel drive
2-cylinder, 624 cc
33 bhp
compression ratio: 9.5:1
Multi point fuel injection petrol engine.
Engine is rear mounted.
Power: 33 PS (33 hp/24 kW) @ 5500 rpm
Torque: 48 N·m (35 ft·lbf) @ 2500 rpm
1st time a 2-cylinder gasoline engine was being used in a car with single balancer shaft.
Anti-vibe balancer shaft
Performance
Acceleration: 0-70 km/h (43 mph): 14 seconds
Maximum speed: 120 km/h (75 mph)
Turning radius: 4 metres
Fuel efficiency (overall): 20 kilometres per litre (5 litres per 100 kilometres
Body and dimensions
Dimensions and Body
Length: 3.1m
Height: 1.6 m
Width: 1.5 m
Seat belt: 4
Trunk capacity: 15 L (0.53 cu ft
Ground clearance: 180 mm (7.1 in)
12-inch wheels