A Tata Nano test car was spotted and it is likely a diesel version. The Nano diesel was expected to be unveiled at the Delhi Auto Expo 2012, but the company postponed its launch.
The test car suggests that the launch of the Nano diesel may happen soon. The spy photos reveal the test mule being filled with diesel at a fuel station at an unknown location, somewhere in North India. The test mule spotted had redesigned front and rear bumpers.
The other exterior design change was the tail exhaust ending below the right side of the rear bumper unlike the Nano petrol where the exhaust ends below the centre of the rear bumper.
EXPERT'S OPINION:

Given India's rising demand for diesel cars, the Nano diesel will definitely attract many more buyers looking for cheap running costs, as the car is expected to give over 33 kmpl. However, in terms of noise, vibration and harshness, it has to be seen how Tata manages to package a two-cylinder diesel engine into the Nano, without making it too uncomfortable and noisy to drive.
The Nano diesel is expected to be powered by an 800 cc, two-cylinder common rail diesel engine that may put out 35 bhp of power and 110 Nm of torque. The Nano petrol engine has a quite audible exhaust note and hence, it will be challenging for Tata to provide the Nano diesel with a silent engine, which does not irritate the driver. Also read: Tata Nano sales cross 10,000 in March 2012!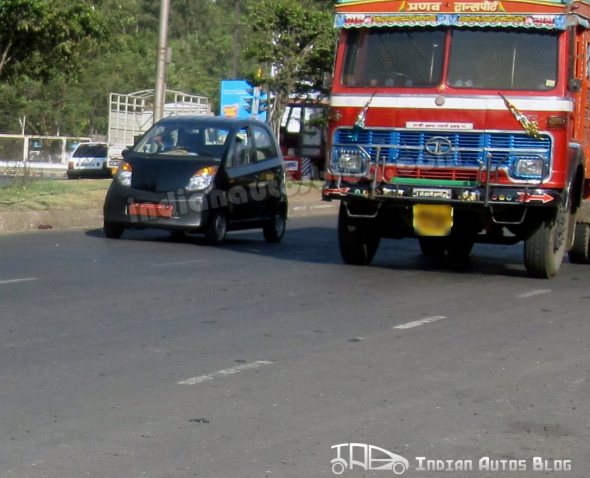 The Nano diesel will likely have an advantage over other small diesel hatchbacks in terms of mileage which is expected to be in the range of 30 – 40 kmpl. If it has an actual fuel efficiency of 40 kmpl it will be cheaper than 180cc or 220 cc motorcycles.
The price of Nano diesel will be around Rs. 40,000 more than the Nano petrol which is priced in the Rs. 1.43 lakh – 2 lakh range. The Nano diesel could very well bag the title of 'most fuel efficient diesel hatchback in India'.
Although it will have a fuel efficient diesel engine the Nano diesel will become a complete package only when it comes with essential comfort and safety features such as power steering, front disc brakes, ABS and a boot door.
(Photo Courtesy: IAB)