The much awaited Tata Nano is out, and from what we have seen from the comments, there is a lot of curiosity about the top end version of the world's cheapest car, the Tata Nano LX.
Frankly we have worn ourselves out writing about the Nano, but can't disappoint all those who land up here. So now we bring you the top end Tata Nano details, Ta Da!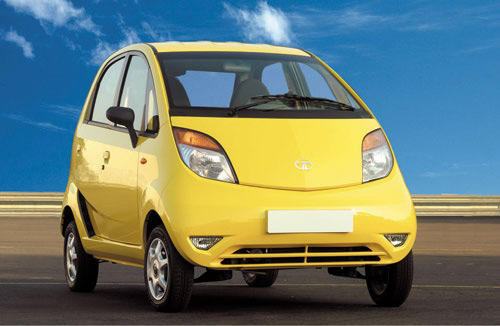 The Tata Nano LX comes with an ex-showroom price of Rs 1,70,335 in Pantnagar where the Nanos are now manufactured right now. In Delhi, the price of the LX variant goes up to Rs 1,72,360 – Rs 2000 more – and as is normal, price is the highest in Mumbai with the tag showing Rs 1,85,375.
While you can book the Nano right now from any of the preferred finance partners by paying the Rs 2,999, the actual booking amount once a car is alloted to you is Rs 1,40,000.
The top-end Tata Nano is Bharat Stage III emission norms compliant, and comes with metallic paint.
The Tata Nano LX model will have power windows, central locking and fog lamps, as well as an air conditioner with a heater. All Nano models come with a warranty of 18 months or 24,000 kilometers.
Of course, you can customise the Nano by adding stuff from the huge amout of accessories available at the Tata Nano website, and make it even more special.
The on-road price of the Nano LX will cros Rs 2 lakhs for sure, and is likely to be around Rs 2.1 lakhs.
At that price, however, there is a question you should consider: If the price tag is going to cross Rs 2 lakh for the Nano, should you consider plonking in even more and look at any of the alternatives such as the Alto, or even the Chevrolet Spark?
Obviously, if you are someone who decides to go in for the Nano LX, you are not exactly the low-end customer who is looking for 'just a car'. You want your luxuries, and you are willing to pay more than Rs 2 lakh on the road for a little car – why not go in for a bigger, more powerful car that is also reliable? That is a question you should seriously consider.
The engine specs of the LC version are otherwise the same as the standard and the CX variants.
Tata Nano specifications for standard, CX and LX models
Engine: 624cc, Parallel twin, petrol
Transmission: 4-forward, 1-reverse, manual
Max power: 34.5 [email protected] rpm
Max torque: 4.9 [email protected] rpm
Dimensions of the Nano
L/W/H (mm): 3099/1495/1652 mm
Wheelbase: 2230 mm
Ground clearance: NA (quite good, no water-logging problems)
Turning radius: 4 m
Kerb weight: 600 kg
Fuel tank capacity: 15 litres
Boot volume: 80 litres
Tyres: 135/70 R12 (F), 155 R12 tubeless
0-60 kph: 8.66 secs
0-100 kph: 31.3 secs
Top speed: 106 kph
Mileage (overall): 23 kpl (claimed)
PRICE: 1.25 to 1.75 lakh (estimated)