The Tata Nano can now be purchased directly from showrooms in Maharashtra, West Bengal, Uttar Pradesh and Karnataka. According to a Tata statement, customers who have not booked a Nano so far can now purchase the "world's cheapest car" directly from dealerships in the aforementioned four states besides Kerala, where open sales of the Nano began in August.
Customers can go for a test drive and take a closer look at the Tata Nano across all the dealerships and special Nano access points. The Nano carmaker has also tied up with 25 banks to offer loans for buying the "people's car" at attractive interest rates.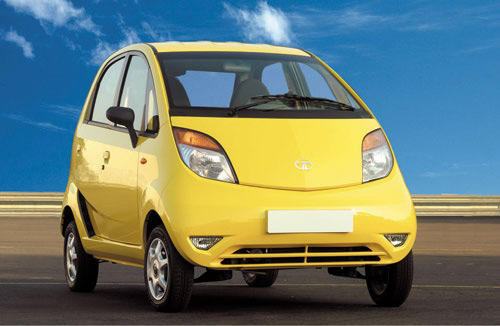 Tata Motors launched the Nano on March 23, 2009. More than 2 lakh people had expressed interest in buying the Nano but Tata Motors chose only  1.5 lakh of those customers and promised to deliver the car in two phases. The company has so far delivered only 45,129 units of the Nano and hopes to complete delivery to the first  1 lakh customers by the end of this year. The Nano is built at Tata's Sanand factory (in Gujarat ), which has a capacity to produce 2.5 lakh units per year.
Rising costs of raw material such as steel and rubber have forced carmakers to hike prices of their products recently and Tata Motors is no exception. Tata hiked prices of all the three Nano variants—Std, CX and LX—by 3-4% (between Rs.3,700 and Rs.6,894, ex-showroom Delhi).
Tata Motors is also planning to launch the "Nano Plus," an upgraded Nano with a more powerful 1-litre petrol engine and improved interior and safety features. Over the long term, Tata will also offer LPG and electric variants of the Nano. According to market research firm JD Power Associates, in 2011, the Tata Nano would be the second highest selling car after the Maruti Suzuki Alto. In September, Tata sold 5,520 units of the Nano, up 61% over the same period last year. Meanwhile, Maruti's newly introduced Alto K10 has clocked sales of 20,000 units in just 40 days after its launch.