The humble Nano can now be purchased at the most unusual of places: Big Bazaar. Tata Motors has tied up with the Future Group retail chain to sell the Tata Nano in the latter's 120 stores across the country.
In case you are wondering who would want to buy a car from the neighbourhood supermarket, take a look at these figures: Tata has already managed to sell around 450 Nanos through its Big Bazaar initiative, which began on February 4th. This constitutes more than 5% of the total 8,262 Nano cars sold last month in India. Related: Tata extends Nano warranty to 4 years, launches comprehensive maintenance contract
Besides, there are perks for buying the Nano through Big Bazaar outlets. Tata is giving away gifts such as gold coins and vouchers worth Rs. 500.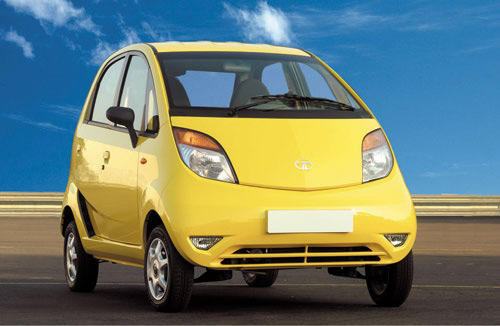 This is the first time cars are being sold in retail outlets in the country. But will the strategy work? Livemint quotes President of Customer strategy for Future Group (which owns Big Bazaar) as saying, "The arrangement has been in place for over a month now and we're encouraged by the results so far. There is a convergence in the target audience of both Big Bazaar and the Tata Nano, and we hope to maximize this target match."
He further added that the new marketing strategy has lived up to the expectations of both Tata Motors as well as Future Group and both the companies are planning to extend the arrangement by another 3 months.
Tata Nano sales shows progress
After a dismal sales of mere 509 units in November, the Tata Motors marketing team has been busy announcing attractive schemes such as zero down payment, 4 years warranty, Rs. 100 per month maintenance package etc, to boost the sales of the Nano. Related: Tata Nano sales in December 2010
The strategies have to a certain extent yielded success for the company.Tata Nano sales stood at 5,784 units in December 2010, 6,703 units in January 2011 and 8,262 units in February 2011. The company would likely ramp up production from the existing 18,000 units to 20,000 units based on demand.
Tata Nano future variants
Tata Motors will likely launch an upgraded Nano to meet the expectations of buyers in this segment. The upgraded variant could come with improved interiors, integrated audio system, alloy wheels, boot lid, etc. Tata Motors may even borrow design cues from the Nano Europa for this model.
The company is even planning to launch a diesel version of the Tata Nano for the mileage-conscious. The Tata Nano diesel has been caught testing on various occasions and the model may finally hit the Indian tarmac later this year. Read more: Tata Nano diesel spotted yet again