The cute small car, Tata Nano has surpassed the 10,000 sales number mark. In March 2012 sales have touched 10,475 units. This is the highest-ever sales the Nano has clocked in a single month. Previously, in April 2011, the sales of Nano stood at 10,012 units.
The launch of the 2012 version of the Nano has helped in boosting its sales. In fact, after the launch of the 2012 Nano, in the last four months (December 2011 – March 2012), the sales have been consistently above 7,000 units every month. (See table):
| | | | | |
| --- | --- | --- | --- | --- |
| Month | December 2012 | January 2012 | February 2012 | March 2012 |
| Tata Nano sales | 7,466 units | 7,723 units | 9,217 units | 10,475 units |
Tata Motors launched the 2012 Nano in November. This was the first official upgrade the Nano has received since its launch in March 2009.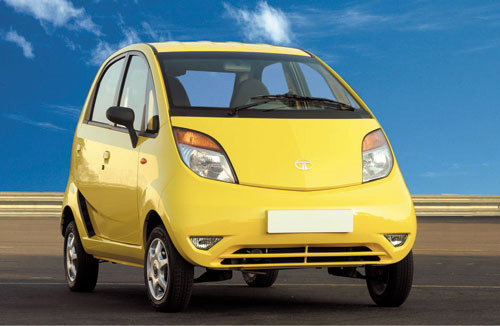 The new Nano has slightly improved engine power and torque with ARAI-certified fuel efficiency of 25 kmpl. On the exterior, the 2012 Nano gets left hand side rear view mirror, full wheel caps and new body colors such as Papaya Orange, Neon Green, Peal White and Mojito Green. On the inside, updates in the 2012 Nano include beige fabric with silver metallic centre console and beige-black door trim and improved seat cushioning.
The 2012 Nano is powered by the 624 cc, 2-cylinder petrol motor that makes 37.4 bhp of power and 51 Nm of torque. The engine is mated to a 4-speed manual gear box and has an ARAI-certified mileage of 25 kmpl, a slight improvement when compared to the mileage of earlier Nano (23.6 kmpl). The on-road mileage can be expected to be in the range of 15 – 21 kmpl. The Nano is best for city runabouts and short trips during weekends. The low price, plenty of interior space, short turning radius, effective AC and high mileage makes the Nano a desirable first car.
The Nano is available in three variants: standard variant priced at Rs. 1.43 lakh, the CX variant priced at Rs. 1.73 lakh and LX variant priced at Rs. 2 lakh. All prices are ex-showroom, Delhi.
Tata Motors has been aggressively promoting the new Nano through TV commercials and also offering attractive discounts. In February 2012, Tata Motors announced an exchange bonus ranging between Rs. 20,000 – 25,000 for the Nano besides offering a cash discount of Rs. 10,000 and down payment of as low as Rs. 15,000. This has obviously paid off for the Nano.