The Tata Pixel European city car concept, we reported about earlier today, has been unveiled at the 2011 Geneva Motor Show. The Pixel's futuristic styling, complete with two 'scissor' doors that open upwards, makes it look like a Tata Nano that's built in the year 2050! Check them out for yourself in these photos!
However, the Pixel's real claim to fame is a super-frugal engine, which Tata says would make it the most fuel-efficient 4-seater car in the world!
We have a photo gallery of the Tata Pixel here for your viewing pleasure. Enjoy!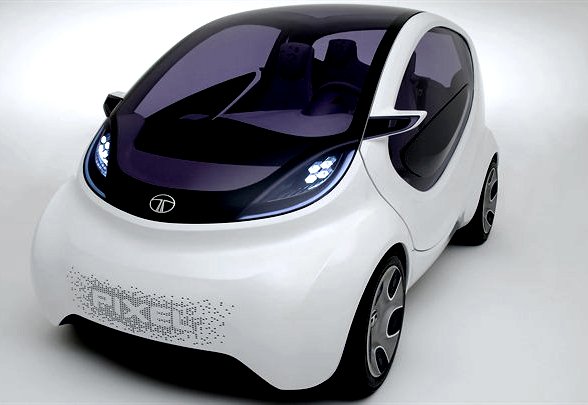 Speaking on the Tata Pixel's unveiling, Carl-Peter Forster, managing director and group CEO of Tata Motors, is reported to have said, "Tata Motors holds true to its belief that there is an opportunity in Europe for a city car, which is optimal in space, maneuverability and environment-friendliness. The Tata Pixel is a reflection of Tata Motors' idea of what such a car should be."
As per our earlier prediction today, the Pixel will be powered by a 3-cylinder, 1.2-litre turbocharged diesel engine instead of a 1.0-litre diesel mill that was speculated earlier. The rear-mounted diesel motor will be assisted by new technologies such as variable coolant, oil pump and rapid warm-up. Related story: Tata Pixel to be unveiled at Geneva Motor Show today
Tata Pixel's diesel engine will return a mileage close to 30 km/litre as per the European combined cycle fuel economy and will emits CO2 emissions as low as 89 g/km. The four-seater family car has a predicted range of up to 160 km. We can expect an engine similar to the Pixel's in the upcoming Tata Nano diesel, which will likely be launched in the first half of 2011.
Inside the car, the 'My Tata Connect' pairs the driver's smartphone with the Pixel's infotainment system using Bluetooth.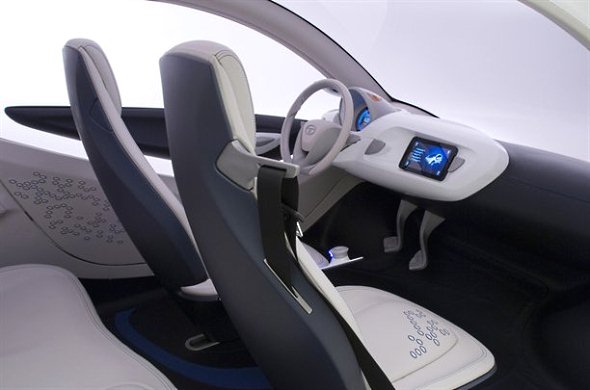 The Tata Pixel concept boasts some really cool engineering – a Zero Turn toroidal traction-drive Infinitely Variable Transmission (IVT). In layman terms, that will help the Pixel achieve a remarkable 2.6 metres turning radius! That's far better than the Tata Nano, which has a turning radius of 4 metres! The new mechanism also works as a parking assistant, which allows the outer rear wheel to move forward and the inner rear wheel to rotate backward, which will be very handy in parallel parking over tight spaces.
A bit of positive buzz was needed for Tata Motors, we guess. Remember that the Tata Pixel is only a concept, though tech and design from it might make its way into Tata's future cars. Don't be surprised if we see that the Tata Nano Europa one fine day has begun to sport from lines from the Pixel! The company did not exactly haver a great year in 2010 when sales to the Nano dropped to abysmal levels scaring the company. The few Nano cars that caught fire did not help matters either. But the company went after recapturing the market aggressively and the Nano is currently selling in India at a good clip.