Tata Sumo is an iconic MUV in the Indian automotive history. It was launched back in 1994 and quickly became popular among buyers. Over the years Tata did offer updates to this boxy looking MUV before discontinuing it due new emission and safety norms. There are still many Tata Sumo owners in different parts of the country, who are using this without any major issue. For those, who are bored with the looks, there are customisation options too. Here we have a video where a Tata Sumo has been modified to look like a G-Wagen SUV. The video also shows couple of Force Gurkha SUVs that have been modified in similar manner.
The video has been uploaded by Dayakaran vlogs on their YouTube channel. In this video, the vlogger speaks to a person from Big Daddy Modifiers, who have actually modified these cars. The video shows three modified SUVs that look like G-Wagens. The first one is finished in a Deep Blue shade. This is actually a Tata Sumo MUV that has been modified into a G-Wagen. The workshop has modified it to look like a G-Wagen with Brabus kit. Almost all panels on this MUV has been customised as part of this project.
The stock grille, bonnet, fenders and bumper were all removed and replaced with custom-made units. These panels were all made from metal sheets. The wheel arches, and fender flares were all designed to mimic the original G-Wagen SUV. The SUV has been designed to look like current generation G63 SUV. There is a huge bonnet scoop but, the turn indicators on the bonnet of the cars are missing in this replica. Mercedes-Benz log and aftermarket projector LED headlamps have been installed. The bumper on this SUV is a custom-made unit and it comes with an LED DRL in it.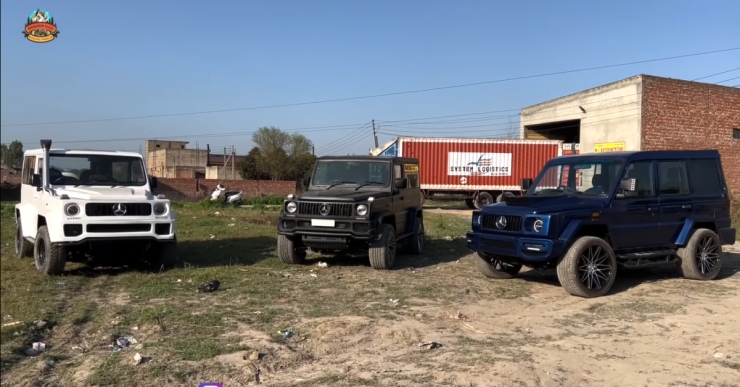 Coming to the side profile, the SUV gets 22 inch aftermarket wheels and a metal rock slider. The ORVMs are from a Jeep Wrangler. From side profile, it looks more like the Sumo, mostly because of the overall proportion. The workshop however has done a good job in making it look like something different. The work on this car is not complete and the spare wheels are still missing. The interior on this Sumo has been customised and the second row gets captain seats now. It took them around 6 months to finish this project and it would cost around Rs 5 lakh excluding the alloys and tyres. No changes have been made to the engine of this SUV.
Next is the G-Wagen finished in a Satin Black shade. It is based on a Force Gurkha and it is modified to look like an older-generation G-Wagen. This is a three-door SUV and just in the case of Sumo, the panels are custom-made in this Gurkha too. The interiors have been extensively modified. The approximate cost of this modification is around Rs 4 lakh. The third SUV is also based on a Force Gurkha. The SUV is finished in white and just like the other SUVs, it is also a custom-made project. We have seen several examples of modified Tata Sumo SUVs but, this is probably the first time, we have come across such a project.