Tata Nano will get its first upgrade and a tune up that has improved its mileage to 25.3 kmpl (ARAI-certified) and new features as well, by the end of November 2011.  Most likely, Tata Motors may not hike the price of the Nano this time because its price is its major USP (unique selling proposition) and the upgrades aren't that expensive so as to affect the company's margins on the Nano either.
CarToq spoke to many dealers and some of them stated that Nano with minor upgrades will likely be launched after November 22nd. The dealers also listed the following changes in the upcoming Nano to improve the drivability, ride quality and comfort.
Nano with more power, softer suspension, easier steering maneuverability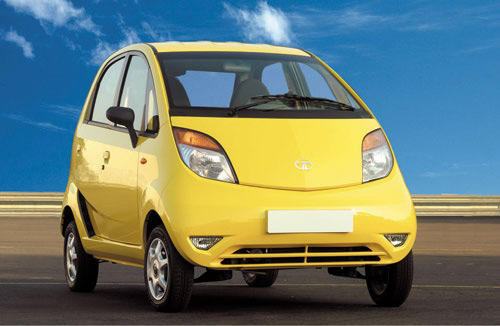 The upcoming Nano models will feature the same 624 cc engine, but the engine has been tuned further to produce 38 bhp, which is up by 3.5 bhp from the present 34.5 bhp. The new Nano will have an anti-roll bar for softer steering movement, tweaked suspension for plusher ride, better NVH levels with dampening materials to reduce engine noise and road noise from entering the cabin, new colors such as orange, green and white on the top-end variant and a total of 10 shades with six metallic and four non-metallic shades.
Variant-wise changes
Top-end Variant: Tata Nano LX (Rs. 1.96 lakh)
The Nano LX will get full wheel caps instead of the centre wheel cap offered in the present model. A useful driving aid feature will be the inclusion of a left-hand side mirror. The seat cushion has been improved to offer a better ride. With regard to looks, the refreshed Nano LX will come with a beige colored dashboard with the central console in silver.
New features on Tata Nano LX
[table id=337 /]
Mid variant: Tata Nano CX (Rs. 1.70 lakh)
The Nano CX doesn't get full wheel caps but will have centre wheel cap, beige-black door trims and new improved cushioned seats and black (glossy) colored outer mirrors.
New features on Tata Nano CX
[table id=338 /]
Base variant: Tata Nano Standard (Rs. 1.40 lakh)
The base variant will likely remain the same as the present model. Though the added mileage, retuned suspension and steering wheel with antiroll bar will make it a slightly better car to drive.
Conclusion
It's good that Tata has given the Nano a much needed upgrade. It's possible that the company has also worked on making the Nano fire-proof after many incidences of Nano fires were reported, but there's no official word on that yet.
However, those who have been waiting for a diesel version or an improved 3-cylinder petrol engine version of the Nano, will have to keep waiting. This minor upgrade with improved mileage, though, should make this small car better value for money.