Tata is making the most of its foundering relationship with Fiat, and milking it for what it's worth. After having launched the Vista with the 1.3 litre 75 bhp Quadrajet engine (Fiat's multi-jet diesel that is also in the Punto), Tata has just launched the 90PS version as well, with the engine that powers the Tata Manza. It is available in two variants priced at Rs. 6.03 lakh for the VX Quadrajet and Rs. 6.63 lakh for the ZX Quadrajet.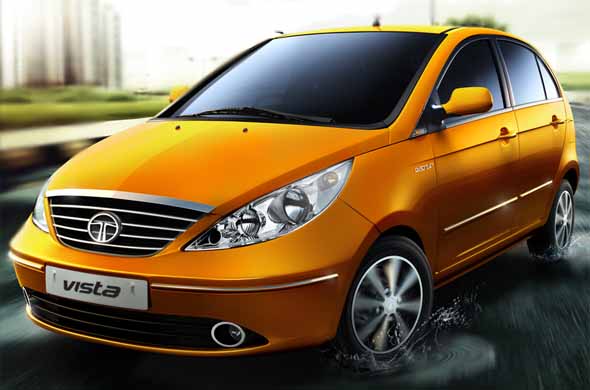 The Tata Vista 90 Quadrajet uses the same 1.3 litre engine but with a variable geometry turbocharger to develop peak power of 89 bhp and peak torque off 205 Nm, compared to 75 bhp and 190 Nm of torque in the regular Vista diesel.
Other changes that the Tata Vista 90 comes with include a new dashboard, again taken from the Tata Manza with the instrument panel moved to the driver's side instead of the centrally mounted location in the present Vista. The Vista 90 Quadrajet borrows other bits from the Manza such as the three-barrel headlamps to differentiate it from the regular Vista. Also see: Tata Indica Vista Quadrajet video review
Tata already has a 90PS version of the Vista – but that's only in petrol, with the 1.4-litre Safire engine from the Manza, but this car is not really popular. The diesel version will make the Vista 90 one of the most powerful hatchbacks available, putting it next to the Hyundai i20 in terms of engine power, and the Fiat Punto 90PS (Sport), from which it has borrowed the engine. The car has tweaks to the suspension to improve ride and handling, to deal with the improved power output. Also read: Tata-Fiat breakup – what this means for you?
There are already 10 variants of the Tata Vista – six petrol and four diesel – available in metros, and the addition of the Vista 90 diesel variants should take that to 12 variants, as Tata has introduced it in VX and ZX trims. The present diesel range is priced between Rs. 5.09 lakh and Rs. 6.40 lakh, and the new Vista sees a price increase of about Rs. 20,000 over the 75 bhp variant. Also read: Top 3 feature loaded hatchbacks under Rs.8 lakh in India
The Tata Vista is one of the most spacious hatchbacks in its class and has good ride quality and luggage space as well. Tata also offers plenty of features in its top two variants, including alloys, airbags, ABS, powered mirrors, steering audio controls and Bluetooth integrated audio system. However, the design and looks are something that buyers aren't very comfortable with – as well as the Indica brand name, which has more of a commercial appeal rather than for private car users.
Share your thoughts on the Tata Vista 90 Quadrajet.