If you were a '90s kid following WWE, you'd undoubtedly recognize the Great Khali. He stood as one of the Indian participants in the wrestling arena. After retiring from his professional wrestling career, he returned to India. Since then, he's taken on various roles, including acting in television commercials and establishing the Continental Wrestling School in Punjab in 2015. Khali frequently appears riding cars and motorcycles within his village. In a video we present here, he can be observed seated and riding a Royal Enfield Bullet motorcycle.
View this post on Instagram
This video was shared by the Great Khali on his Instagram page, though it lacks any accompanying caption. In the video, the pro wrestler can be seen perched on the motorcycle. The Royal Enfield Bullet, a substantial and weighty motorcycle, is dwarfed by Khali's presence. He manages to make the bike appear as small as a bicycle in comparison. This isn't Khali's maiden voyage on a motorcycle; he's been spotted riding various models, including the Interceptor 650, Bullet, Hero Splendor, and even the Bajaj Pulsar, all of which appear incredibly diminutive next to him.
Also read: 10 DC Design cars & how they look in the REAL world: Maruti Swift to Mahindra XUV500
Due to Khali's towering height of 7 feet 1 inch, any bike or car appears exceptionally undersized. Slowly, Khali sets the bike in motion and subsequently cruises down a road. It's worth noting that Khali is not wearing an appropriate riding helmet, which constitutes a perilous trend. Riding helmets are designed with a purpose – to safeguard riders from head injuries in the event of an accident. It's highly advisable not to engage in two-wheeler riding without the requisite head protection.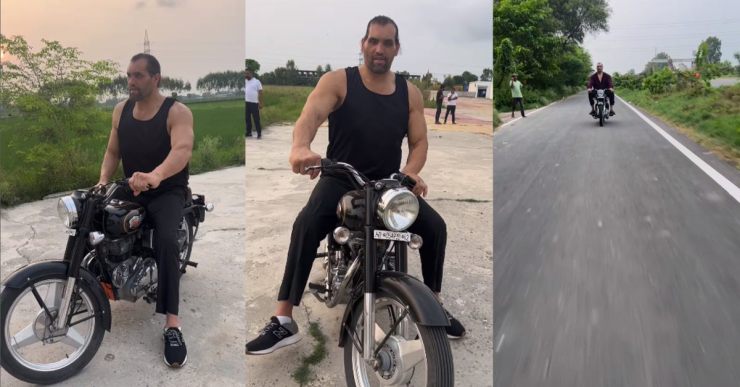 The Royal Enfield Bullet showcased in this video represents the current iteration. The manufacturer is presently developing the next generation of the Bullet, slated for launch in the upcoming weeks. It will share its foundation with the current generation Classic 350. This next-gen Bullet promises enhanced refinement, aligning with the standards of contemporary Royal Enfield motorcycles. Equipped with a 349-cc, J-Series engine that generates 20.2 Ps and 27 Nm of peak torque, the motorcycle will encompass numerous modifications compared to the prevailing market version.
Khali's ability to make things appear small isn't confined to motorcycles; even an SUV like the Toyota Fortuner appears like a hatchback in his presence. A photograph of him standing next to a Toyota Fortuner went viral last year, illustrating how the vehicle paled in size next to him, much like the Bullet motorcycle in this video. In addition to the Fortuner, Khali possesses a Toyota Glanza, for which he adjusts the seat all the way back to attain a comfortable driving position. Nevertheless, it remains uncertain whether he can truly sit with ease. It's quite evident that there's no space left behind him to accommodate a passenger. The comment section of this video abounds with an array of humorous remarks, with many poking fun at his extraordinary height – a rarity in India. The wrestler hasn't responded to any of these comments, yet the video has already amassed 4.1 million views and 499 thousand likes online.
Also read: Upcoming 2022 Maruti Suzuki Vitara Brezza rendered