The Great Khali is a name that many of us are familiar with. He was the only Indian competing in WWE championship. He retired from this profession and returned to India. He is currently seen in many television commercials these days. Other than this, the ex-wrestler also trains local boys and enthusiasts in his ancesteral village. Previously we have seen videos and images of Khali trying to fit into a hatchback and also ride a motorcycle. Mostly because of his height which is 7 feet 1 inch, Khali makes a regular car or a bike look like a toy. A picture of him standing next to a Toyota Fortuner has now gone viral on the internet and in this picture, Khali has made Toyota Fortuner look like a hatchback.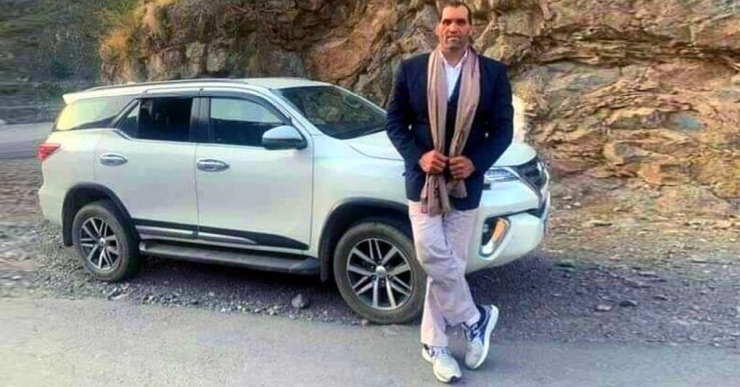 The Toyota Fortuner seen here in the picture is the pre-facelift model of the current generation Toyota Fortuner. Toyota Fortuner is a massive 7-seater SUV and is known for its massive presence on the road. However, Khali with a frame of 7 feet is taller than Fortuner and it now looks like a hatchback. We are not sure whether the ex-wrestler actually bought this SUV. In one of the videos, he is seen sitting inside the same generation Fortuner.
Also read: Ford Endeavour wrapped in matte military green is understated menace
We are not sure if this is the same Fortuner as the one seen in the picture. Because of his height and physique, the Great Khali has pushed the co-passenger completely to the rear and has reclined the seat slightly to make more room for him.
It does not look like he has ever sat on the rear seat of the SUV. In some of his previous videos, Great Khali is seen driving a Toyota Glanza hatchback while he barely fits into it. A video of him washing the Toyota Glanza and an older generation Ford Endeavour are also available online. Coming back to the Fortuner, it is huge SUV which is 4.8 metres long and over 1.8 metres tall. The Great Khali as many call him is over 2 metres tall and that is the main reason why the Toyota Fortuner looks very small in front of him. Khali uses the Fortuner very often to reach events and commute.
The ex-wrestler also said to own expensive SUVs like an older generation Toyota Land Cruiser. Khali also owns the Toyota Glanza hatchback. This is the older version of the hatchback. He drives the Toyota Glanza all by himself around his house and also uses it to reach shooting locations and buy groceries. He has so many videos of himself driving the Glanza. As mentioned above, it is not an ideal car for Khali's height. Khali does not look comfortable in the car while driving the car. He is so tall that his head touches the roof. we wonder how he manages to see the road in front clearly. Other than cars, Khali also has few motorcycles in his garage. A video of him riding a Royal Enfield had gone viral in the past. He also has a Hero Splendor and a Bajaj Pulsar motorcycle.